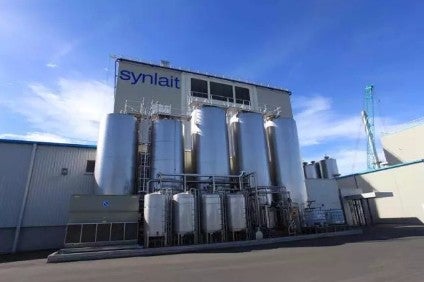 Synlait Milk, the New Zealand-based dairy and infant formula co-manufacturer, has lowered its profit guidance and cited the coronavirus outbreak as a factor in its decision.
The publicly-listed business, which counts China as a key market, had previously forecast its annual profits would grow in its current financial year, with the rate of profitability increasing at least at a similar rate to the previous year.
"Current information now indicates this rate of growth will not be achieved," Synlait said today (13 February) in a stock-exchange filing. The company said it expects its annual net profit after tax for the year to the end of July to be between NZD70-85m (US$45.1-54.8m).
In Synlait's previous financial year, the company made a profit of NZD82.2m, up 10% on the previous 12 months.
Synlait said there had been "no material short-term impact on its financial performance in connection with the coronavirus outbreak" but added: "It represents some downside risk going forward. This was considered as part of the broader outlook update and contributed to Synlait's decision to issue a wider guidance range at this stage, which was extended down to NZD70m."
Synlait, meanwhile, also cited "significantly lower-than-anticipated" sales of base infant powder, pointing to "consolidation" in China's infant-nutrition market. The company said demand from brand owners who yet to receive registration for their brands in China had decreased.
The group also flagged a greater volatility in the prices of the ingredient lactoferrin than it had anticipated and added it expects "consumer-packaged infant formula" sales volumes to not grow as much during the year as expected.
Meanwhile, Synlait has been busy investing in areas like production. "As anticipated our new investments have resulted in a higher cost profile, which has not yet been absorbed by an offsetting increase in revenue, as Synlait steps up to its next level of growth," CEO Leon Clement said.
On the impact of the coronavirus outbreak, Clement added: "Synlait is an export-based business and our reputation has been built, and is maintained, on ensuring we put people, food safety and quality at the heart of what we do. This will continue to inform our response to this situation. We are not currently experiencing any supply chain disruption. However, we are monitoring the situation very closely and felt it prudent to front-foot potential impacts."
Synlait is scheduled to announce its financial results for the six months to 31 January on 19 March.
Shares in Synlait closed today at NZD6.80, their lowest level for almost two years.