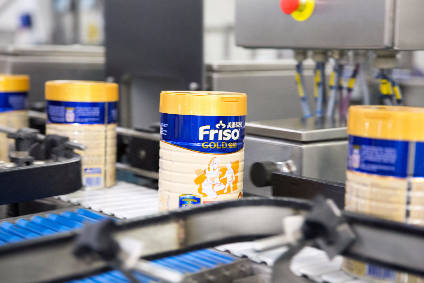 The coronavirus outbreak has led Netherlands-based dairy major FrieslandCampina to reassess how much it sees its core sales growing in 2020.
FrieslandCampina, home to brands including Frico cheese and Friso infant formula, has trimmed its growth forecast for what the company calls "strategic net sales". The metric covers more than 80% of FrieslandCampina's total sales but excludes products such as private-label milk sold to retailers and parts of the co-op's ingredients business.
"Our strategic sales we expect to grow by 2-4%. We had actually an even bigger ambition but we toned it down a bit given the coronavirus situation. We had 3-5%," FrieslandCampina CFO Jaska de Bakker told just-food.
FrieslandCampina's total revenue fell 2.2% to EUR11.3bn (US$12.8bn) in 2019. The co-op pointed to a decline in the milk supply of 3.4% as a result of a drop in the number of its member dairy farms.
The revenue FrieslandCampina generated from its branded products rose 3.1%, with sales from the brands within the company's Consumer Dairy division up by 5.4%. The Consumer Dairy arm's total revenue stood at EUR6.19bn, versus EUR5.95bn in 2018.
As a result of a shortage of the ingredient lactoferrin, as well as the political unrest in Hong Kong in the second half of 2019, revenue from the group's Specialised Nutrition division – which houses its infant-formula business – declined from EUR1.32bn in 2018 to just under EUR1.3bn last year.
Asked if FrieslandCampina expects to see the sales from its Specialised Nutrition arm bounce back to growth in 2020, de Bakker pointed to the uncertainty presented by the outbreak of coronavirus Covid-19.
"There's a few things that we struggled with last year that are resolved. An important one is that we had a lack of of an ingredient called lactoferrin, which is an ingredient from milk but it's highly specialised, and it helps immunity. Now that ingredient in the general world was was basically sold out and that meant that, for our high-end products in China, we just didn't have enough supply. That issue is fixed. We started a joint venture in the US, where we actually have this ingredient, lactoferrin, so that should help and therefore we are more positive about this year," she explained. "But that, again, was before coronavirus so it's hard to estimate the impact there. Without that we would say we expect to good growth this year of Specialised Nutrition."
In China, where the Covid-19 outbreak emerged, de Bakker pointed to the different impacts the spread of the disease there had had on the business.
"Our Specialist Nutrition business is very focused on Greater China where we see also very good things because we have an important position in the digital [channel]. Consumers in China are ordering more as you can imagine all sitting at home, ordering more through digital, so we actually have a benefit there," de Bakker said.
"Where we see difficulties is logistics in getting the products to the consumer. We are succeeding but it's just more tougher, more costly. Then, more generally in the business, we see impacts from a lack of containers. We sell more and more normal dairy to Middle East, for example, where we have a nice brand as well, Rainbow, which comes from a factory in the Netherlands. There we see also logistics challenges to get that all delivered."