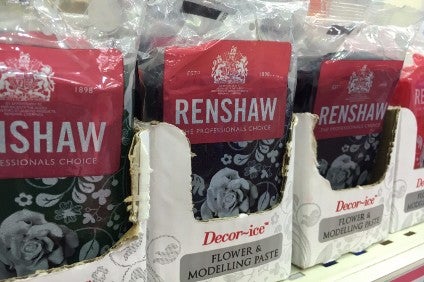 Real Good Food has reported an increase in annual revenues and profits but the UK-based firm said it expects a "material impact" on sales from Covid-19 in the first quarter of its new financial year.
The London-listed cake decorations and ingredients supplier, which also owns a stake in snack bar manufacturer Brighter Foods, posted a 9% gain in sales in the 12 months to 31 March and a 178% increase in adjusted EBITDA. Real Good Food (RGF) said today (8 April) that while its performance was "broadly in line" with expectations, coronavirus did impact the company in the final month of its fiscal year.
All of its manufacturing facilities remain open and customers are being supplied "in line with reduced levels of demand", RGF said in a statement to the stock exchange.
RGF laid out the current issues the sector is experiencing: "The manufacturing sector is likely to be able to maintain or grow sales; the wholesale sector has had a downturn due to its customers in the restaurant and leisure sectors having to close premises; and the retail sector has focused on filling shelves with 'essential' products, and has changed some order patterns, whilst rationalising some niche products and colours."
Mike Holt, the firm's non-executive chairman, said: "We are grateful to our staff and stakeholders as we work together through this challenging period. The budgets we were signing off just a short time ago are now being updated to include all the measures we are taking to ensure that the Group has a sustainable business going forward. We believe the food industry is resilient and that Real Good Food is well placed within the segments we serve and given the quality of our products and operations."
In view of the drop off in demand associated with Covid-19, RGF said production planning is being reviewed to "rationalise" its product mix. Also, since coronavirus first emerged in China late last year, the company said it had found alternative sources of raw materials in Europe that would normally have come from suppliers in the Asian country.
RGF added in today's statement: "We are working to prepare the business for varying levels of revenues and have modelled the effects of these, whilst reviewing all the measures we can take to ensure that the Company exits this period with a sustainable business model for the future.
"We have close working relationships with our major shareholders and funders who remain supportive. In common with other companies, RGF is reviewing all options to mitigate the impact of the reduced sales."