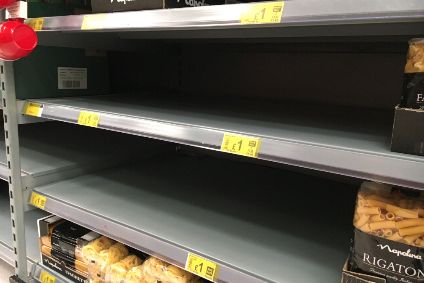 The UK government has said it is confident that the UK's food supply will not be interrupted by the coronavirus outbreak.
In answer to a question in the House of Commons yesterday (9 March), Health Secretary Matt Hancock said food supply will not be interrupted "even in our reasonable worst-case scenario".
He added: "We have been talking to the supermarkets for some time about this scenario.
"I appreciate that on Friday there was discussion about whether every single supermarket executive had been involved in those talks. If any further supermarket executive wants to be involved in those conversations they should get in contact, but those conversations have been ongoing, and it is important, especially as we ask more people to self-isolate and stay at home, that we can ensure that we get supplies that are needed to the people we are asking to stay at home."
The UK has not yet taken the drastic measures against the spread of the virus seen in countries such as Italy and France where large-scale gatherings, such as sporting events, have been banned and, in the case of Italy, whole regions have effectively been put into lockdown.
Hancock said: "The scientific advice is clear that acting too early creates its own risks, so we will do what is right to keep people safe. Guided by science, we will act at the right time, and we will be clear and open about our actions and the reasons for them. These are the principles that underpin the very best response to an epidemic such as this."
As of yesterday, there were 319 confirmed cases of coronavirus in the UK which includes four deaths.
Meanwhile, UK supermarkets are to be allowed to increase night-time deliveries as the government relaxes rules to limit the impact of panic-buying caused by the outbreak. Restrictions on the hours that delivery lorries can operate in built-up areas are to be relaxed while the outbreak continues.
Supermarket executives held a conference call with George Eustice, the secretary of state for environment, food and rural affairs, yesterday.
Eustice said: "By allowing night-time deliveries to our supermarkets and food retailers, we can free them up to move their stocks more quickly from their warehouses to their shelves.
"Our retailers have well-established contingency plans in place and are taking all the necessary steps to ensure consumers have the food and supplies they need. I will continue to work closely with them over the coming days and weeks on this."
The UK's The Guardian newspaper reported that the potential expansion of click-and-collect services is also being discussed after supermarket groups made it clear that there is limited capacity to expand home deliveries to cater to those in isolation.