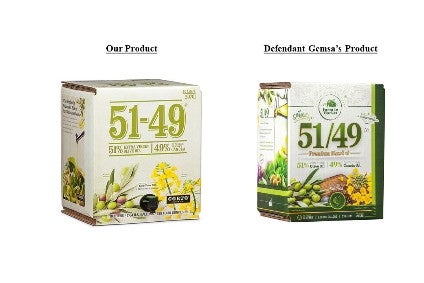 Corto Olive of the US has filed a lawsuit against competitor Gemsa Enterprises for an alleged trademark and packing infringement related to its 51-49 blended oil brand.
California-based Corto Olive filed the suit in the United States District Court for the Central District of California against Gemsa, which is based in the same state and produces extra virgin olive oils.
The lawsuit alleges "trademark and trade dress infringement" under federal law, and unfair competition violations under federal and California laws, according to a statement yesterday (25 July) from Corto Olive.
Plaintiffs reportedly sent Gemsa a letter in May demanding it halt the use of the 51-49 registered trademark, but has failed to take corrective action.
Corto Olive supplies its products to restaurants via foodservice distributors, and also owns brands such Truly, Extra Virgin Olive Oil and La Padella.
Tom Cortopassi, its senior managing partner, stated in the statement: "Gemsa's attempt to deceive customers into thinking they are buying our product, instead of a commodity knock-off, is so flagrant that we had to take action. We are determined to enforce our rights in every instance that a competitor attempts to steal our intellectual property, and we will protect the restaurateurs and foodservice distributors who count on our trademark as the mark of premium olive oil."
Gemsa could not be reached for a reaction outside office hours.