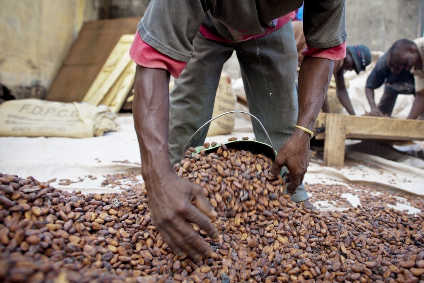 Cote d'Ivoire has reinstated cocoa sustainability schemes run by US confectionery major Hershey after the West African country withdrew from them earlier in the year amid a row over price premiums intended to support a living wage for growers.
Both Cote d'Ivoire and Ghana had withdrawn from the schemes amid accusations against the Reese's and Rolo chocolate brand owner that it was trying to avoid paying a premium on cocoa after the two countries introduced a "living income differential" (LID) in July on all cocoa sales for the 2020/21 season.
Cote d'Ivoire and Ghana claimed Hershey was circumventing the need to pay a premium to farmers by sourcing large volumes of cocoa on the ICE futures exchange in order to avoid the LID premium.
According to media reports, a letter from the Conseil du Cafe-Cacao, Cote d'Ivoire's regulator, advised Hershey that the country had lifted the suspension after the chocolate maker committed to the LID, which reportedly adds US$400 a ton to the price of cocoa.
Hershey responded in a statement: "We are fully participating in the LID for cocoa purchases already made from the 2020/2021 crop as we buy a substantial supply sourced from Cote d'Ivoire and Ghana. And we will continue to participate in the LID to support cocoa farmer livelihoods going forward.
"We recognise the importance and the value of the LID as a means to reach and improve the lives of farmers across the entire Ivorian and Ghanaian cocoa farming industry, not just the ones directly involved in our programs."
just-food has contacted the Ghana Cocoa Board, or Cocobod, to establish whether the country plans to follow the lead of Cote d'Ivoire.
Hershey added: "Hershey's commitment to improving cocoa farmer livelihoods and ensuring a long-term sustainable cocoa supply is unwavering. Solving the many challenges within cocoa production, such as low incomes, poverty, child labour and environmental protection will be possible only through collaboration and cooperation across industry, governments, and civil society.
"We look forward to continuing to engage with the governments of Cote d'Ivoire and Ghana in the spirit of our long time mutual collaboration and partnership to advance our shared goals.
"We are eager to move ahead with our sustainability programs so farmers continue to receive the benefits provided by our on-the-ground programs as well as the price premium for certified cocoa."