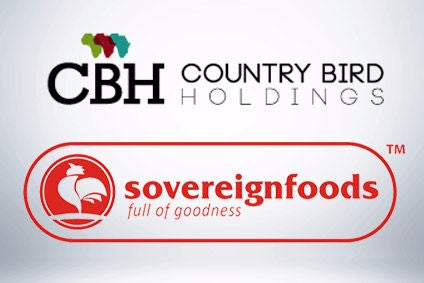 Country Bird Holdings CEO Marthinus Stander said the South African poultry group would not seek another acquisition target should it decide not to pursue its interest in local rival Sovereign Food Investments.
On 8 November, South Africa's Takeover Regulations Panel judged Country Bird's bid for Sovereign Food Investments had contravened regulations, a ruling that means the offer has lapsed.
In July, Country Bird, which along with so-called "concert parties" already owned just short of 10% in Sovereign Food Investments, tabled a ZAR9-a-share offer for the rest of the business. Announcing the bid, Country Bird said the offer would become unconditional once it, together its concert parties, held 50% plus one share in the business. Country Bird said the offer would terminate on 13 September – the 45th business day after the offer opened – unless it has been declared unconditional before then.
On 13 September, Country Bird announced it had "waived" the condition – and the bid was "unconditional as to acceptances", though it remained subject to other conditions, including competition approval. Sovereign Food Investments then appealed to the panel.
Separately, South Africa's Competition Commission last week ruled a takeover of Sovereign Food Investments by Country Bird would not lessen competition in the country, although it set conditions on jobs and on black economic ownership in the enlarged entity.
Speaking to just-food, Stander said Country Bird would wait until the takeover regulation panel published the reasons for its ruling before deciding on mounting a legal challenge. "We think we got a bad ruling. That condition we waived was our own condition that favoured ourselves," Stander insisted. "It was seen by the panel that we'd changed the rules midway in the game. It's now a situation where we're looking at our options. It's about 50 days after the 8th when the panel will make their reasons known. We can then take it on review but that is a lengthy process. It's a legal process. It can be a couple of months down the line. It's obviously costly as well."
If Country Bird opts to end its interest in Sovereign Food Investments, Stander said the company would focus on investing in growing its own operations, rather than look for another company to buy, despite the tough conditions in South Africa's poultry industry.
"My view we'd rather invest in own further process equipment and lines than try and gobble up some other company that's mix is not going to have legs for the future," he said.
Asked why a takeover of Sovereign Food Investments by Country Bird would benefit both businesses, Stander pointed to the importance of having a broader business in current business environment.
"There's a lot of headwinds in the industry as we speak," Stander said. Predominantly the biggest one is the effect of dumping into our market from Europe. What's important now is you have to diversify. You have to look at products that are not frozen and not in the same format as those that are coming in because those are dumped products. The industry is in a very tough situation and if you can put together a company that is more diversified and more demand-driven then you have a much more sustainable business."
Stander pointed to the differences between the customer bases of Country Bird and Sovereign. "We have a big chunk – 70% – of our business that is QSR business and Sovereign has got a big chunk of Spar's business – some of that is fully-cooked and they export a bit as well because with fully-cooked you can get around the non-tariff, the phytosanitary measures. Together we can put the best parts of both together and have a more sustainable business."