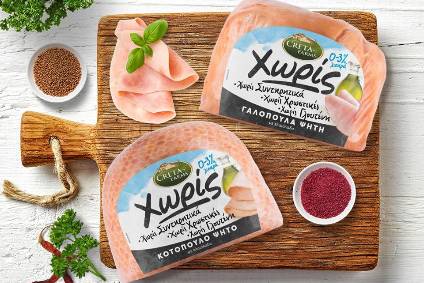 The takeover of troubled Greek cold cuts producer Creta Farms has been approved by a court, with Dutch-Bulgarian investment trust Impala Invest Group, which already runs food manufacturers in Bulgaria, to gain ownership.
A court of first instance in the Cretan city of Rethymno has formally approved a restructuring plan filed at the court by the new owner, which had been previously approved by the Greek banks and includes debt haircut of 64.12%. Impala Invest will undertake the repayment of EUR58.5m (US$69.2m) of the company's total EUR162.9m debt.
Dimitris Vintzileos, a Greek national, senior executive and a key shareholders of Impala Invest Group, told just-food: "We are very satisfied with the final acceptance of the investment by the competent court. Our goal is that Creta Farms becomes a market leader in the near future. Impala Invest Group is dedicated to continue offering high-quality and innovative products to consumers."
Impala owns Bella Bulgaria, which makes pastries, meat products, oils and other products in nine plants. The Crete court decision also follows approval by Greece's Hellenic Competition Commission of the partial acquisition of Creta Farms by Bella Bulgaria's Greek subsidiary, Impala Hellas.
According to the business plan compiled by Impala Invest Group, Creta Farms profits are expected to rise from EUR46m the first financial year of the takeover to EUR130m in the 11th financial year, which projects a steady growth rate of 10.8%.
Creta Farms' facilities contain the main factory area of 200,000 square metres in the city of Rethymno, northern Crete, and one factory unit in Krioneri, north of Athens, as well as equipped storage areas in the Cretan capital Heraklion; Patras, in the northern Peloponnese; and Thessaloniki, northern Greece.
The company's international markets see it sell into countries including Germany, the US, the UK, Cyprus and Australia.