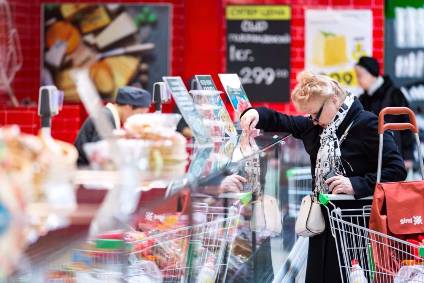 The Covid-19 pandemic, which is yet to hit its peak in Russia, has put increasing pressure on the country's food manufacturers by increasing operational costs at a time when businesses have also been facing a decline in the value of the rouble.
Major food manufacturers continue to operate at or near full capacity despite amid a nationwide lockdown, which is set to expire on 11 May.
Food manufacturers have been exempted from the order but health and safety costs have risen. At Mondelez International's three Russian plants, for example, workers are required to follow social distancing rules and strict sanitation standards. They also undergo regular health screenings and temperature checks. "As consumers look to guarantee a supply of basic food products, including snack products, it is important for us to continue our production and service to our customers," a spokesperson for Mondelez's business in Russia said.
A bigger pressure on food manufacturers comes from Russia's weakened ruble, which has fallen steeply during the crisis from RUB61 (US$0.82) to US$1 on 12 January to RUB75 to the dollar on 4 May.
Russia's National Dairy Producers Union, Soyuzmoloko told just-food that means higher prices for foreign equipment and imported materials, which for the dairy sector, make up 10-20% of production costs.
"This factor will inevitably lead to an increase in the cost of milk," a Soyuzmoloko spokesperson said. "We are predicting a fall in profitability." The spokesperson is calling on the Russian government to "take measures now to prevent this and to ensure that all enterprises can survive this crisis".
That said, until now, food manufacturing output has remained stable in Russia. The Russian Federal State Statistics Service (Rosstat) noted overall production across industries increased by 6.4% in March, compared to February thanks to booming demand for food products, including grains, vegetable oil, canned meat and fish.
However, experts from Teletrade and Raiffaisen Bank, quoted by Russian language news publication gazeta.ru, expect to see a 20% drop in production in April and a 30% drop in May if the lockdown measures remain into June.
Certain food items have seen a spike in demand during the pandemic. There was a boom in the sale of buckwheat, rice and pasta in March, according to a Nielsen study, while in April people stocked up on sweets, potato chips and sunflowers seeds. As of late March, there was a trend of Russians buying baking goods, which then made up five out of the ten fastest-growing segments in food sales.
While core fresh foods, such as vegetable produce, are not expected to see significant price hikes, prices for imported items are headed for double-digit growth, according to Rusprodsoyuz, the Association of Producers and Suppliers of Food Products. Prices for canned goods, tea, coffee and cocoa are expected to grow by 20%, while pasta and bread products could see increases of 5-15%.