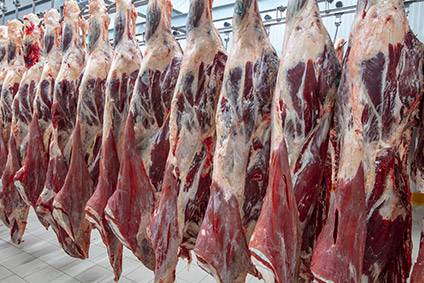 The cabinet of German Chancellor Angela Merkel today (20 May) announced a "work protection programme for the meat industry", raising labour standards in a sector criticised for poor health and safety due to a rash of outbreaks of Covid-19 among temporary migrant workers.
The proposals include a ban on contract staffing from the start of 2021 as well as higher fines of up to EUR30,000 (US$33,000), (up from a current ceiling of EUR15,000), for breaches of workplace health and safety regulations.
Labour Minister Hubertus Heil has been told to coordinate drafting a new law facilitating these reforms. The moves follow Covid-19 outbreaks among migrant workers employed in German slaughterhouses, including those run by Müller-Fleisch, Westfleisch and Wiesenhof. Most migrant workers employed in the German meat industry are from eastern Europe, with infections being fuelled by many living in cramped dormitories and close contact during transportation to and from the slaughterhouses.
"The delegation of liability to sub-contractors comes at the expense of many workers. There is very obviously a need for adjustment," Germany's Minister of Food, Agriculture and Consumer Protection, Julia Klöckner, told media today.
Industry associations are unhappy. Speaking to just-food, Stefanie Sabet, director of the Employers Association for Food and Consumption (ANG – Arbeitgeberverreinigung Nahrung und Genuss), stressed that sub-contracting helps the entire German food industry remain competitive. ""We appreciate commensurate measures for more protection of workers at slaughterhouses, but the plan to end contract staffing for slaughterhouses overshoots the mark and seriously interferes in entrepreneurial freedom," Sabet said.
The German Meat Association (VDF – Verband der Fleischwirtschaft), for its part, has proposed writing into German law its own voluntary commitments on improving oversight of and conditions within contact workers' dormitories.
Even should the federal government push a new law quickly through the Bundestag, change may not happen immediately, especially as regards the implementation of new health and safety rules. Under Germany's federal system, while work protection regulations are issued by the central government in Berlin, it is up to the country's 16 federal states to check compliance with the legislation.
Further complicating matters, workers' dormitories fall under the jurisdiction of municipalities. Moreover, under the existing law, their work protection authorities are only allowed to examine those dormitories that officially belong to meat companies, a problem given many migrant workers commonly reside in dormitories located in private apartments.
One German meat company, the Tönnies Group, is trying to move ahead of any increase in controls, announcing a plan to end its use of worker dormitories. Tönnies said on May 12 its migrant workers will be housed in living units of a maximum of ten people.