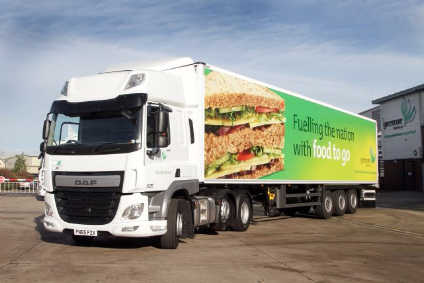 Greencore, the Ireland-based manufacturer that is one of the largest private-label suppliers in the UK, has seen its sales drop by around 40% in recent weeks amid a coronavirus-linked slump in demand for food-to-go products.
The London-listed company, which today (19 May) reported the financial results for the first half of its financial year, said in the opening six weeks of the second half of the period its "group revenue is now approximately 60% of prior year levels on a proforma basis".
Greencore said it had seen Covid-19 have "a dramatic and volatile impact on the shape of UK food consumption" in the six weeks from 28 March, although it added there were "signs that demand patterns have recently begun to stabilise".
Nevertheless, it had seen "weekly demand" in the company's "food-to-go categories" tumble "by up to 70%" and remain at "less than 60% below prior-year levels".
Greencore did note there had been "sustained growth" in its other convenience-food businesses, in particular cooking sauces, with growth up around 5% year-on-year.
In the first half of Greencore's financial year, which ran to 27 March, revenue increased by 1.6% to GBP712.7m (US$873.7m). After adjusting for exchange rates, last year's acquisition of UK salad and chilled snacks business Freshtime and the end of longer-life ready meals manufacturing at the company's Kiveton facility, revenue inched up 0.1% on a pro-forma basis.
First-half revenue from Greencore's food-to-go businesses of sandwiches, salads, sushi and chilled snacking was up 1.9% at GBP455.8m. Stripping out the Freshtime deal, pro-forma revenue declined by 2.1%.
Sales from Greencore's other convenience categories – including chilled ready meals, chilled soups and sauces, chilled quiche, as well as ambient sauces and pickles – increased by 1% to GBP256.9m. Pro-forma revenue increased by 4%, when adjusting for movements in foreign exchange and excluding sites that have stopped trading.
Greencore said its group adjusted operating profit fell 14.3% to GBP38.3m.
The company outlined how it had sought to adapt to the changes in consumer demand, including moving "rapidly to simplify its product ranges with its customers".
To protect its profits, Greencore has temporarily ceased production at three factories – in Bow, Atherstone and Heathrow – and rationalised production at its facility in Northampton. The company has also used the UK government's furlough scheme and seen its board and executive directors take a 30% cut in fees and base salary for three months. Greencore said these actions, as well as others, was "returning the group to modestly positive EBITDA".
CEO Patrick Coveney said: "We have implemented a broad range of actions to mitigate the impact of Covid-19 on our business and to position us for growth as the pandemic eases. More than ever before, our deep customer relationships, leadership positions in key food categories, well invested network, flexible model, and outstanding people are key strengths that ensure we trade our way resiliently through this uncertain period."
Greencore shares had risen by 1.03% to 152.66p at 08:22 BST this morning. At the start of the year, the company's shares stood at 266.5p.