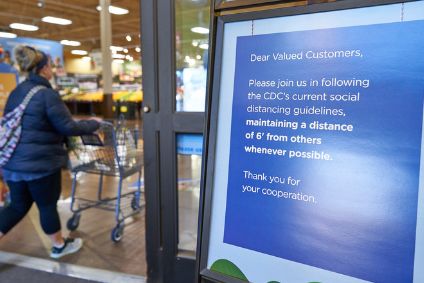 The shopping habits of consumers living under lockdown and concerned about the coronavirus pandemic are leading to some healthy-eating trends "being put on the back-burner", according to new research from GlobalData.
Pantry-loading, or stockpiling, has led to higher demand for what GlobalData terms the "new essentials", which in the FMCG sectors has led to a spike in interest in foods and beverages offering "indulgence and comfort", the London-based data and analytics company said.
Carmen Bryan, a consumer analyst at GlobalData, said a survey of consumers the firm conducted this week showed 83% of global consumers said they are "quite/extremely concerned" by Covid-19, with a further 62% expecting the situation to worsen in their respective countries.
"As a result, we are living in an anxiety economy, with stress and uncertainty significantly influencing consumers purchasing choices. Sales of alcohol, snack foods and tobacco have all increased, with companies such as Nestle seeing strong demand for their snack lines," Bryan said.
Nevertheless, Bryan expects consumer interest in health and wellness to return when the coronavirus crisis eases, with government initiatives also helping a rebound in demand for healthier fare.
"While health consciousness appears to have taken a backseat for some consumers, it is likely to rebound in force, backed by consumer demand, government programmes and new product launches that will drive one another in an almost circular economy – brands should take this slowdown to reassess their product lines, and innovate for the long-term, targeting the vices consumers have garnered over the course of quarantining with 'healthy' comfort foods," she argued.
"The post-Covid-19 scenario may see a second wave of government-endorsed health initiatives, new-and-improved nutritious food labelling, and increased online campaigns geared at informing and encouraging healthy lifestyles. Manufacturers should prepare for a new health craze, as consumers look for products that satisfy their desire for guilt-free eating."