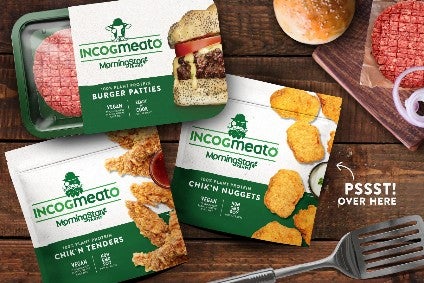 Kellogg is pushing back the planned launch of plant-based brand Incogmeato due to the Covid-19 outbreak.
When Kellogg, already home to the MorningStar Farms range of veggie foods, first announced in September the addition to its meat-free portfolio, the company said it planned to launch Incogmeato in "early" 2020.
"As our retail partners work to keep shelves filled, many have delayed resets, so we have delayed the first wave of our launch of Incogmeato, the Morningstar Farms sub-line of refrigerated meat alternatives," Kellogg chairman and CEO Steve Cahillane told analysts on Thursday (30 April) on a call to discuss the US giant's first-quarter financial results.
"Instead of launching the burger products at the end of Q1, we now plan to launch them along with the previously-planned sausage products sometime later this year."
Kellogg had lined up the launch of meat-free burgers, as well as alternatives to bratwurst and Italian sausage under the new brand.
MorningStar Farms witnessed rising consumption during the first quarter, the latter part of which saw US consumers start to stock up in response to concerns over the transmission of Covid-19, Cahillane said.
"Our Eggo brand had been generating strong consumption growth and share gains through February and then saw its US consumption accelerate to over 45% in March. The same is true for Morningstar Farms and our frozen veggie business. This on-trend brand was already showing strong double-digit momentum in consumption in the US and then its consumption growth shot up to over 66%," Cahillane said.