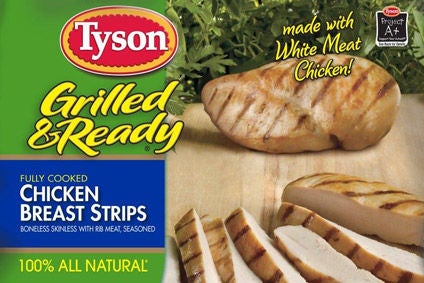 The chief financial officer (CFO) of US meat giant Tyson Foods has advised consumers not to panic over potential meat shortages.
But Stewart Glendenning admitted: "If you look at USDA [US Department of Agriculture] public data, you will see that pork and beef production across the industry is down 20% to 30%. That's 20% to 30% less meat arriving at your table."
The temporary closure of a number of meatpacking plants across the US – including some belonging to Tyson – because of Covid-19 outbreaks amongst employees, has sparked concerns that there could be a shortage of produce on grocers' shelves.
But Glendenning, appearing on Yahoo Finance's The First Trade programme, said the company, behind brands such as Jimmy Dean and Hillshire Farm, is very focused on ensuring there is food in the supermarkets despite the supply chain being "dramatically interrupted".
He said: "What's really important here is that we start getting really good community data so that we can manage together with local officials to ensure that our plants come up as quickly as they can and as safely as they can."
However, he could not say when Tyson's shuttered plants would re-open. Tyson is set to report its second-quarter figures on 4 May.
Rebecca Scheuneman, an equity research analyst covering Tyson for US financial services firm Morningstar, said it remained "difficult" to quantify the impact of the closures on the company's results "given the rapidly evolving environment and volatile prices in livestock and meat cuts".
However, she added: "We think higher processing margins are likely to offset the additional costs that Tyson is incurring. Reduced processing capacity for beef and pork has resulted in sharp drops in the average prices for live cattle and hogs, which fell 12% and 38%, respectively, between late March and April 22. Conversely, the average values for processed beef and pork carcasses have increased 26% and 43%, respectively, in the past few weeks. As these segments collectively account for nearly half of Tyson's operating profit, higher margins should be materially beneficial to consolidated results, but additional expenses should be significant as well."