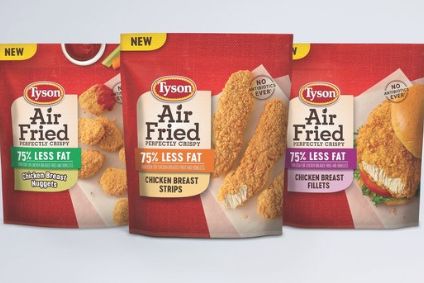 US meat titan Tyson Foods has warned of pressure on its sales volumes in the second half of its current financial year as gains made through selling to retailers have not offset the loss in business in a foodservice market largely shut down to tackle the Covid-19 outbreak.
Providing forward-looking commentary alongside the financial results for the six months to 28 March, Tyson said each of its divisions had seen a "shift in demand" from the foodservice channel to the retail market.
However, the Jimmy Dean and Hillshire Farm owner warned: "The volume increases in retail have not been sufficient to offset the losses in foodservice and as a result, we expect decreases in volumes in the second half of fiscal 2020."
The company added: "We cannot currently predict the ultimate impact that Covid-19 will have on our short- and long-term demand at this time, as it will depend on, among other things, the severity and duration of the Covid-19 crisis."
Tyson's production has been hit in recent weeks by positive cases of Covid-19 among its workforce, leading the company to reduce output at some sites and close factories elsewhere.
The company said today (4 May) it expects to feel the impact of the outbreak on its production. "We are experiencing multiple challenges related to the pandemic. These challenges are anticipated to increase our operating costs and negatively impact our volumes for the remainder of fiscal 2020.
"Operationally, we have and expect to continue to face slowdowns and temporary idling of production facilities from team member shortages or choices we make to ensure operational safety. The lower levels of productivity and higher costs of production we have experienced will likely continue in the short term until the effects of Covid-19 diminish."
Tyson booked net sales of US$10.89bn for the second quarter, versus $10.44bn in the corresponding period a year ago, and adjusted earnings per share of $0.77, down from $1.20 in last year's second quarter.
The consensus forecasts among analysts for those metrics for this year's second quarter were $10.96bn for net sales and $1.04 for adjusted EPS.
Chicken sales dipped during the quarter due to "lower volume from our rendering and blending business", Tyson said.
The company's second-quarter, adjusted, operating income stood at $501m, down from $654m a year earlier, with each division seeing profitability by that metric decline.
Shares in Tyson fell 6.5% in pre-market trading today.