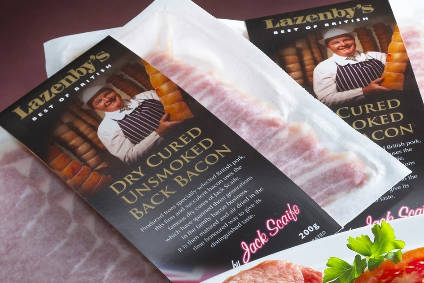 Half-year profits at UK meat processor Cranswick have jumped on the back of underlying sales growth, last year's acquisition of poultry group Benson Park and a tighter focus on costs.
The firm posted an increase in net profit of GBP19.7m (US$29.6m) for the six months ending 30 September, up from GBP19.2m for the same period a year earlier.
Operating profit increased to GBP25.8m from GBP25m.
The group attributed results to the "positive contribution" from Benson Park and an improved performance in pastry, a tighter focus on cost control and operational efficiencies.
Adjusted operating profit – which strips out the effect of amortisation of customer relationship intangible assets, a net valuation on movement of biological assets and a GBP4.6m impairment of goodwill stemming from "a change in the customer base of the sandwiches category" – rose to GBP31.8m from GBP26.2m.
Revenues increased 9.9% to GBP529.1m and on an underlying basis – when excluding the contribution from Benson Park and revenue from pig breeding, rearing and trading activities in both the current and prior period – were up 6.5%.
Martin Davey, Cranswick's chairman, said: "The company continues to work closely with its customers and to maintain its focus on service, quality and innovation to deliver attractive, competitively priced products in market conditions that are expected to remain competitive through the second half of the year. This approach, allied to a broadening product portfolio and an anticipated strong Christmas trading period, means the business remains very well placed to deliver further growth in this financial year.
"With experienced management at all levels of the group, a strong range of products, a well-invested asset base and a robust financial position, the board remains confident in the continued long-term success and development of the business."
Looking ahead, Investec analyst Nicola Mallard said Cranswick's full-year profits will be led by growth in the first half of the year, given the company will be lapping a period when it benefited from falling pig prices. However, she upped her forecast for the company's annual pre-tax profits.
"Margins in 2H will face tougher comparisons (6.2% in 2H15) as they included some timing benefit from the falling pig price. With prices now stabilising, this benefit will not repeat, so we forecast 2H16E margins at a similar level to 1H. Hence, although we anticipate continued volume growth in 2H, we expect the profit advance in FY16E to be largely 1H-led. The outlook statement highlights expectations of a good Christmas quarter and we upgrade FY16E and FY17E PBT by 3%, to GBP63.3m, EPS 102.9p and GBP66.4m EPS 107.8p respectively."