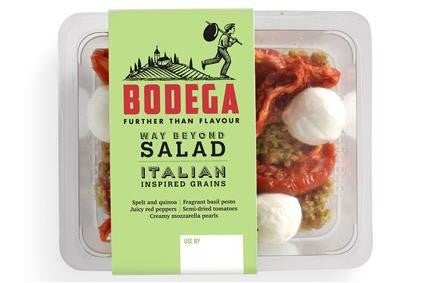 Bodega, the olive business that is part of Cranswick's continental fine foods division, has announced the launch of a grain salad range and a selection platter in the UK.
The salad takes "inspiration from the rich flavours of Spain Morocco and Italy". The salads feature grains including quinoa and lentil, spelt and bulgur wheat.
"Grain salads are wholesome and healthy but can often be bland. At Bodega we don't take bland for an answer; we take the grains and add tasty ingredients and interesting textures to create mouth-watering colourful salads. While some salads conjure up images of limp leaves or mayonnaise laden mixes; the Bodega salads go way beyond salad," said Mary Pennell, marketing and NPD controller with Cranswick's continental fine foods division.
The second product is an antipasti platter that features Italian charcuterie, sweet tomatoes, mozzarella and Bodega's Nocellara olive.
"Increasingly, customers are grazing and sharing food, from tapas in Spain, to ciccetti or antipasto in Italy, and meze in Greece. Sharing small plates of food is a way of eating and socialising that Brits are rapidly adopting from the continent," added Pennell.
The products will launch in Sainsbury's stores in the UK. The salads have an RSP of GBP2.80 (US$4.02) and and the antipasti platter has an RSP of GBP4.00.