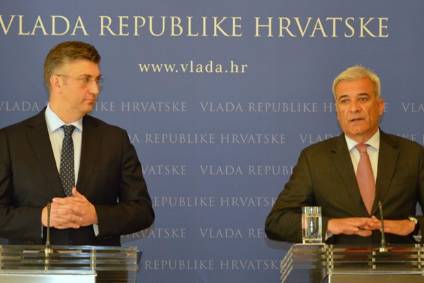 Croatia's government today (10 April) nominated Ante Ramljak to head the restructuring of the country's embattled food manufacturer and retailer Agrokor, after the group was placed in state ownership as part of moves to try to stabilise the business.
Prime Minister Andrej Plenkovic said the appointment of Ramljak, who he said is an expert with experience in investment banking and consultancy, is subject to approval by Croatia's Commercial Court.
The move came after the government rushed an emergency law through parliament to deal with companies of "systemic importance" facing financial difficulties.
Meanwhile, Agrokor president Ivica Todoric confirmed he had signed over the indebted group to the state in a bid to "preserve jobs and enable further development".
Agrokor's acting chief restructuring officer Antonio Alvarez said the new law was "a significant step as we work to stabilise the company".
Alvarez said six lending banks had agreed to "fund the group's operational cash needs on the condition that this funding will enjoy priority status under the new law… subject to the final credit committee approvals of each institution, which is currently in expedited process".
In an open letter to the group's employees Alvarez said: "By taking over all tasks related to restructuring, we are enabling you to focus on your everyday work and to be as effective as possible at it. We understand that this situation causes some uncertainty, but by continuing to work as best as possible you will be doing everything you can to help us save Agrokor together."
Agrokor-owned businesses include Croatian meat processor Vrbovec, local frozen food and ice cream business Ledo and Serbian condiments maker Dijamant. A number of management changes have been made across the businesses.
The group also owns Croatian food retail Konzum and Serbia-based grocer Mercator.