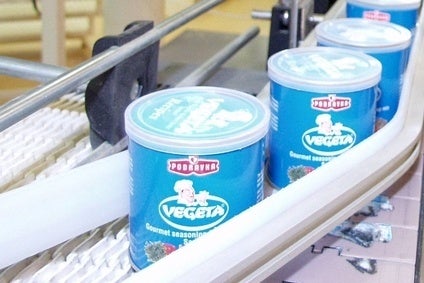 Moves from Croatia-based consumer goods group Podravka to restructure its food business have weighed on half-year profits.
Net earnings from Podravka's food and drinks arm, which accounts for over 77% of sales, were down by more than a third to HRK5m (US$878,520) as charges hit the unit's bottom line.
During the first half of the year, Podravka closed its bakery division and stopped doing business in fresh meat and frozen food. It is also looking to spin off its drinks arm into a new company in which private-equity funds would be investors.
In February, Podravka said it would axe 340 jobs as part of the restructuring and it booked severance payments of HRK49.1m in its first-half results.
Podravka said EBIT and EBITDA from its food and drinks division grew. It pointed out its smaller pharma business saw earnings fall on all metrics amid lower sales.
Podravka booked group net profit of HRK23.9m for the first six months of the year, down 38.5% on the corresponding period in 2013. EBITDA dropped 15.3% to HRK122.4m.
The restructuring also weighed on Podravka's top line, with revenue down 4.3% at HRK1.62bn.
Sales from food and drinks fell 3.5% to HRK1.24bn. Excluding the effect of the restructuring, as well as the impact of foreign exchange, revenue from food and drinks was "slightly above" the first half of 2013, Podravka said.
Revenue from Podravka's culinary business, its largest by sales, fell 3.1% to HRK429.6m. However, it reported higher sales of sweets and snacks.
Click here for more detail on Podravka's results.