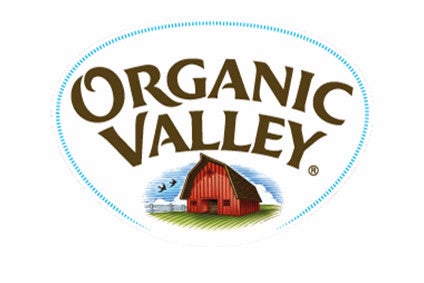 US dairy cooperative CROPP is preparing to launch the first organic product in the UK under its Organic Valley brand – a new protein milk shake – as a springboard for future sales of the product across Europe.
Eric Newman, CROPP's vice-president of sales, told just-food today (15 February) the new Organic Fuel 26g high-protein shake will be launched "soon", although he declined to give details.
"Organic Fuel is such a new product we are still finalising the design of the packaging, but I can confirm it will be launched in the UK this year," Newman revealed on the sidelines of the Biofach organic food trade fair in Nuremberg, Germany.
"Organic Fuel is designed as a protein beverage for athletes containing three times the protein that can be found in regular milk drinks. The new product will also be available in powder form, initially in the UK too, before both the liquid shake and powder variants also go on sale across countries in the European Union."
Newman added: "We want to make sure everything to do with the product is going well following the launch in the UK before we move into the rest of the EU."
The new product, which Newman said is CROPP's first to be sold in any country carrying the EU's organic compliant label, will initially be sold in natural food stores in the UK such as Whole Foods Market and Holland & Barrett. However, Newman said the cooperative had an eye on eventually expanding into mainstream retail. "We do not rule that out," he said.
In terms of sales, Newman said he would expect Organic Fuel's overall sales across the EU to be "at least" US$20m annually within the next three years.
CROPP has longstanding links with the UK, in terms of its partnership with the UK-based Organic Milk Suppliers Cooperative (OMSCo). Under that partnership, the cooperatives produce organic cheeses under the Kingdom brand. Kingdom's organic, sharp cheddar was the first to launch in the range and is available in natural and speciality cheese stores around the US.
In an update on Organic Valley's US operations, Newman said a 50-50 joint venture deal with Dean Foods, to expand distribution of the brand, has gone smoothly. Newman said the venture is now set to start processing and shipping Organic Valley products in April, instead of mid-to-late 2017 as estimated previously.
"The real push for Dean Foods to be bottling at their plants will begin in July, but we have done other business with Dean Foods before and we are building on that legacy relationship," Newman said.
However, Newman expressed concern about possible policies of the new administration of President Donald Trump, including pulling out of the Trans-Pacific Partnership (TPP). "We are concerned about this and the President's America First policy because we believe in global trade," Newman said. "For example, the decision on TPP is disappointing for us from a dairy point of view because we would, for example, have gained in markets such as Japan in terms of reductions in tariffs."