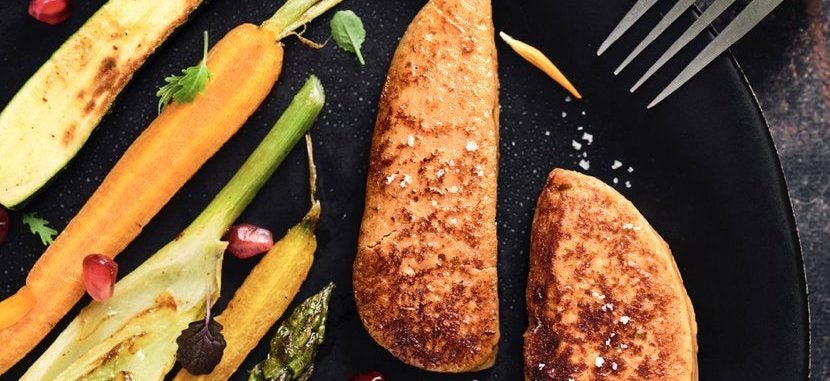 Gourmey, a Paris-based start-up cultivating meat from animal cells, has raised US$10m in a seed financing round to scale-up production ahead of its commercial launch.
Founded in 2019 by chief executive Nicolas Morin-Forest, technology officer Dr Victor Sayous and cell biologist and chief scientific officer Antoine Davydoff, Gourmey describes the products it is developing as "restaurant-grade meats".
Point Nine, a seed-stage venture-capital firm in Berlin, and London-based VC Air Street Capital, led the funding round, with participation from another venture capitalist Heartcore Capital in Denmark, and investor Partech headquartered in San Francisco.
The company's initial focus is on "premium poultry meats."
Gourmey said it is currently working with regulators on its plans for a market launch either late in 2022 or early the following year.
CEO Morin-Forest said in a statement: "Our mission is to reimagine meat for our uncompromising and conscious generation so that we have a chance to feed ten billion people without devastating our environment. Poultry is the most consumed and fastest-growing meat on the planet, so it is an obvious choice to maximise our impact."
Foie gras will be Gourmey's "flagship product", with duck, chicken and turkey set to follow.
"We focus on cultivated meats that we can deliver at price and taste parity faster, which is the main challenge for the industry," the CEO added.
Gourmey's CTO Sayous explained further: "Not only do we have an extremely versatile and cost-efficient cell-production platform, but we are able to reach an unmatched level of refinement thanks to our understanding of the complexity of meat right from the molecular level."
Big Idea Ventures, an alternative-protein venture fund and accelerator with offices in New York, Paris and Singapore, also contributed to the seed round. Also taking part, were Paris-based Eutopia, Silicon-Valley based Ataraxia, Beyond Investing, French investment bank Bpifrance and angel investors from the life sciences and food industries.
Andrew Ive, general managing partner at Big Idea Ventures, said: "We love Gourmey's initial focus on culinary arts and premium meats as chef adoption will be critical to the success of cultivated meat."
Christoph Janz, a managing partner at Point Nine, also pointed to taste parity with conventional meat products as key to attracting customers and consumers. "We have been truly impressed by Gourmey's delicious products and the company's ability to progress both on the science and the flavour at record speed," he said.