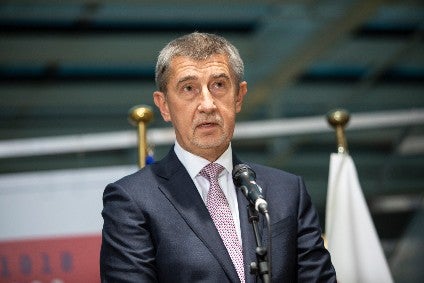 Andrej Babiš, the Czech Prime Minister and billionaire founder of conglomerate – and food manufacturer – AGROFERT , has hit out at the EU for an audit that found him in a conflict of interest.
Last year, Babiš, who set up Agrofert in 1993, put the company into trust funds to meet Czech legislation on conflict of interest. Babiš became the Czech Prime Minister in December 2017 after three years as minister of finance.
However, a draft EU audit has argued Babiš still holds control of Agrofert while having a say on the bloc's decision making on budgets.
The draft sparked a demonstration in central Prague calling for the resignation of Babiš. Some reports claimed the really attracted 120,000 people.
"It really is a dubious, flawed and inaccurate report that has signs of an attack," Babiš was reportedly quoted as saying this week. "An attack that is actually directed against the entire Czech Republic."
In a statement referring to Czechia, the short-form name by which the Czech Republic is also know, the European Commission defended the audit.
"The audit carried out in Czechia in January and February follows the standard audit process, in full respect of the EU audit procedures, including on-the-spot audits, draft findings and the right of the auditee to be heard," the Commission told just-food.
"We are in the phase of draft audit findings, communicated to the Czech authorities in the form of a draft audit report, which includes draft findings and recommendations. In line with the procedures, the Czech authorities have been invited to react to the draft audit report.
"The Commission auditors are professionals who always carry out their work in an objective manner in full respect of both Commission audit procedures and in line with internationally accepted auditing standards. The aim of this is to protect the financial interests of the EU and of taxpayers, including Czech taxpayers.
"The European Commission always looks for cooperation and thus remains ready to work with the Czech government on the matter. We look forward to receiving an answer to the draft audit report – it is only after hearing the Czech side that the Commission will finalise its report."
This week, Transparency International, the Germany-based NGO that last year lodged a formal complaint with the European Commission alleging Babiš had violated EU and Czech law on conflicts of interest, welcomed the draft audit, claiming it proved Babiš's conflict of interest.
"It is good news not only for us as authors of the initiative, but mainly a victory for all citizens and taxpayers in Czech Republic and Europe. Prime Minister Babiš's unprecedented conflict of interest has been confirmed. Now the consequences of the conflict need to be resolved immediately so that the national and European budgets recuperate the costs," David Ondrácka, director of Transparency International in the Czech Republic, said.