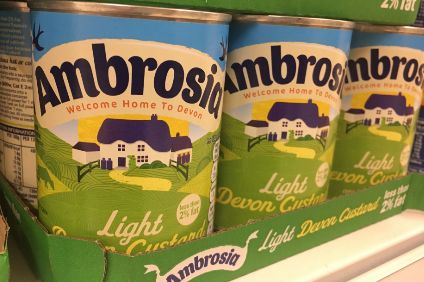 Major dairy companies have been linked with interest in possibly making bids for Premier Foods' up-for-sale Ambrosia custard brand.
A report in the UK's The Mail on Sunday newspaper, quoting City sources, said the UK's Dairy Crest, Ireland's Kerry Group and German yogurt maker Müller are all potential buyers for Ambrosia, for which, it claimed, Premier Foods has asked more than GBP100m (US$128.4m).
Earlier this month Premier – which owns other brands including Mr Kipling, Bisto, Angel Delight and Batchelors – put Ambrosia, based in Devon in England's south west up for sale as part of a business review. Premier said it wants to raise funds to invest and also to reduce its debts. It announced the departure of its CEO Gavin Darby at the same time.
A City source told the newspaper: "There isn't likely to be a huge number of potential bidders for Ambrosia but the market specialists will see the value and are the ones that will be able to make it work."
just-food has contacted Dairy Crest, Kerry Group and Müller for a response to the story.
A spokesperson for Müller said the company would never comment on "analyst-driven speculation of this kind" whilst a spokesperson for Dairy Crest also said it did not comment on such speculation.