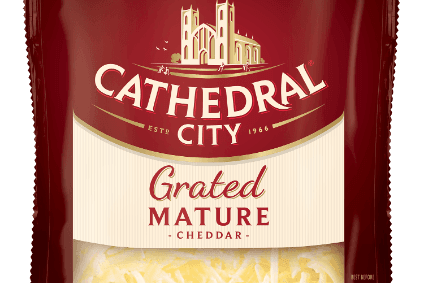 The UK's largest dairy company, Dairy Crest, is planning a raft of new product launches after revealing 14% of the revenues it generated in its last financial year came from "recent innovation".
New products will include launching a lactose-free range of products marketed under cheese brand Cathedral City and rolling out a pre-biotic dietary fibre 'shot' under the Promovita brand.
Dairy Crest made the announcement as it delivered its pre-close trading update for the six months ending 30 September. The company said it expects its first-half revenue to be ahead of the GBP220.1m (US$228.1m) it made in the corresponding period last year.
The business also said it expects its profit to be "slightly" above that made in the first half of last year, when it booked a profit of GBP16.2m, excluding exceptional items of GBP106.5m.
Affirming its forecast for the year ahead and stating its net debt at the end of September would be significantly lower than last year, Dairy Crest said its "strong" performance has been driven by its two largest brands, Cathedral City and Clover.
"The brand [Cathedral City] continues to go from strength to strength, and was recently voted one of the top ten brands by UK consumers in YouGov's Annual Brand Health Rankings, based on consumers' perceptions of quality, value, satisfaction and reputation, as well as being voted number one in the chilled/frozen foods category," it said.
Dairy Crest said the next few months will see several new product releases for Cathedral City.
"As part of our continued focus on snacking, we will launch two new Cathedral City snack bars flavoured with caramelised onions and sweet chilli in October. We will also be partnering with Nickelodeon to promote our relaunched kids snacking range. In line with our strategy to cater to a diverse set of consumer needs, Dairy Crest will be rolling out a Cathedral City Lactose Free range," it said.
Announcing another new launch, it said: "We will shortly be unveiling a galacto-oligosaccharides (GOS) 'shot' for consumers which is marketed under the Promovita brand name. The unique pre-biotic dietary fibre, which nourishes health-promoting bacteria in the gut, will be sold as liquid sachets to be taken daily."
Chief executive Mark Allen said: "Innovation is the cornerstone of this business and we're looking forward to showcasing a number of examples at our capital markets event this week. Our Functional Ingredients business is progressing well and we are excited by the potential of the launch of the Promovita GOS 'shot'".
In May Dairy Crest announced it was pumping GBP75m into its UK cheese business to meet demand.