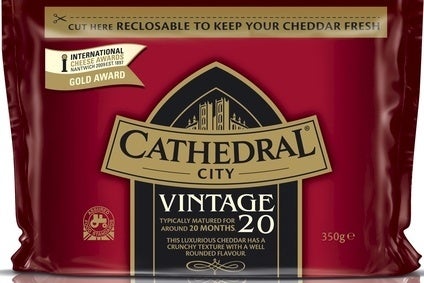 Dairy Crest insisted that its cheese and spreads businesses have performed "robustly" in a "difficult environment" and, while its milk business continued to make a loss, the sale of the unit remains "on track".
In its interim management statement this morning (5 February), Dairy Crest said sales of its four key brands – Cathedral City, Country Life, Clover and Frijj – remained flat over the nine month period. Dairy Crest flagged that Cathedral City grew market share in the period, while Frijj "performed strongly". This was offset by lower Clover and Country Life sales which came in the context of an increasingly competitive and declining spreads category.
CEO Mark Allen commented: "Against the background that we operate in, Dairy Crest has delivered a solid performance. Maintaining the sales of our four key brands in line with last year and growing our overall Cheese and Spreads profits is a good result in today's challenging environment. We continue to strengthen these businesses and are investing for future growth."
Shore Capital analyst Darren Shirley said flat spreads and cheese sales suggested a "modest decline" in revenue during the third quarter. "Spreads profits have benefited from lower input costs (cream) and will begin to harvest savings from the closure of the Crudgington facility going forward. Cheese profits have been under pressure due to lower whey realisations and also lower selling prices which come ahead of the fall in input prices," he noted.
In its liquid milk business, Dairy Crest said that it anticipates a stronger performance in the back half of the year. The company said milk costs have fallen but production is higher and selling prices are down. "This has adversely affected profits in this product group," the company said.
Last November, Dairy Crest revealed a deal that would see it sell-off the liquid milk business to Müller Group. The transaction is "on track", having received approval from Dairy Crest shareholders, but competition approval is pending. "Dairy Crest and Müller have asked for the transaction to be referred back to the UK for review by the Competition and Markets Authority ("CMA") and are engaged in constructive talks with the European Commission and the CMA on this application with a view to progressing the merger review as quickly as possible," the company said.