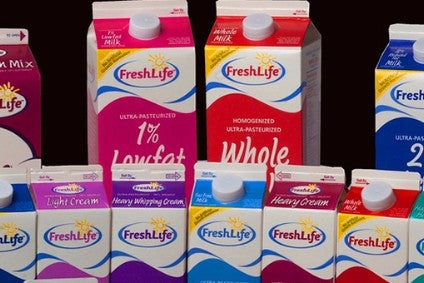 US cooperative Dairy Farmers of America has purchased Cumberland Dairy as part of a strategy to increase commercial investments and ownership in extended shelf-life processing.
Cumberland Dairy, based in Bridgeton, New Jersey, is a processor of ultra-pasteurised dairy products owned by the Catalana family. Its sister company Innovation Foods, which makes high-acid beverage products, will be unaffected by the transaction and will remain independent.
Financial details of the deal were not disclosed in a statement from DFA yesterday (2 November). Cumberland Dairy will retain its name, and the family and existing management will continue to conduct operations, including milk procurement and production.
DFA's president and chief executive, Rick Smith, said: "This acquisition represents a commitment by our farmer-owners to expand our investments in processing and to continue to grow the US dairy industry.
"The Catalanas' values and passion for the industry align closely with those of our cooperative, and we believe this is a tremendous opportunity to expand upon the foundation of quality products and superior service already in place at Cumberland Dairy."
Founded in 1933, Cumberland Dairy supplies convenience and grocery outlets, wholesale food distributors and restaurants. Many of its products are produced under licensing or co-packaging arrangements. Innovation Foods provides products to the dairy company's partner firm NextFoods under their GoodBelly brand.
Company president Carmine Catalana IV said "a future with DFA means that we can continue to focus on our values as a company while accelerating our opportunities for growth".