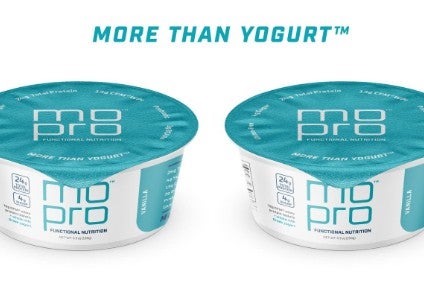 Dairy Farmers of America has made an undisclosed investment in alternative Greek yogurt business Mopro Nutrition as the US-based cooperative seeks to generate growth from natural, high-protein products.
Mopro claims its namesake brand is the first Greek yogurt to be infused with CFM whey protein isolate and is a "smarter replacement" for protein bars and shakes, and regular Greek yogurts.
Birmingham, Michigan-based Mopro featured in the 2018 Sprint Accelerator programme sponsored by Dairy Farmers of America (DFA), a 90-day scheme geared to helping start-ups accelerate growth.
"I am excited to work with DFA on a permanent basis," said Mopro founder Michael Moran, who started the company following an illness as he searched for a protein supplement that would not aggravate a nut allergy.
Mopro yogurt is also low in sugar and contains probiotics.
"We developed a nice relationship during the Accelerator program, and they share my vision for evolving the yogurt category and bringing the highest-quality and innovative, fresh nutrition products to the marketplace," Moran added.
DFA and Mopro will use the new-found partnership to increase product distribution and build brand awareness.
Monica Massey, senior vice president and chief of staff at Kansas-based DFA, said: "As a farmer-owned cooperative, DFA is continuously looking for innovative ways to bring dairy to consumers, and this investment in Mopro reflects that commitment. We think there's a lot of growth potential with more natural, high-protein products, and look forward to working with Mopro to help make them a household brand."