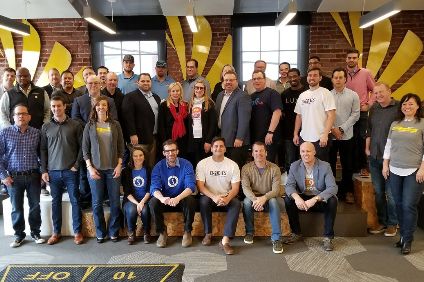 US cooperative Dairy Farmers of America (DFA) and communications company Sprint have revealed the nine start-up businesses that take part in their accelerator programme this year.
They include start-ups focused on "ag tech" and dairy food products.
The Accelerator is a 90-day programme that continues until June. Start-ups will work directly with leaders from Sprint, DFA and programme backer CoBank as well as other industry experts and mentors.
Sprint launched its accelerator in 2014. DFA first teamed up with Sprint to develop an accelerator looking at agricultural technology and dairy food last year.
Kevin Strathman, senior vice president of finance at DFA, said: "We've found tremendous value in this programme and leveraging innovation that's happening with start-up companies in the ag tech space.
"For year two, we're focused not only on building partnerships that can help solve problems and benefit our members on their farms, but it's also exciting to add dairy food start-ups into the mix. We're looking forward to working with these companies to help grow their businesses and ultimately drive consumer demand for dairy."
Doug Dresslaer, managing director of the Sprint Accelerator, said: "We have a diverse and exciting group of companies joining our programme this year,
"For Sprint, we've recruited companies that align with our IoT [internet of things] team's core business strategies and for DFA, we've not only brought in cutting-edge agricultural technology companies, but we also have three dairy food product companies in this year's cohort."
The ag tech and dairy food product companies selected for the 2018 Accelerator are:
Pharm Robotics from San Jacinto, California, which is developing robotic systems to automate the administration of animal health products in dairy cows.
Ripe Technologies from San Francisco, California, which is transforming the food supply chain using blockchain technology to enable data transparency.
SomaDetect from Fredericton, Canada, which is a precision-dairy company that is creating an in-line system for measuring every compound of interest in raw milk.

Cheddies from San Antonio, Texas, which provides consumers with a cheese cracker that has added nutritional benefits.
MoPro Nutrition from Birmingham, Michigan, which claims to be the first Greek yogurt infused with CFM whey protein isolate.
Too Cool Chix from New York, which creates ice cream sandwiches free of artificial ingredients and stabilising gums.
The internet of things participants are:
Keybot from St. Louis, Missouri, which helps automate rental access with proprietary keypad lock and app through self-showings and renter and maintenance access.
Luxe Concierge from Kansas City, Missouri, which has developed a mobile app which allows apartment residents to book and manage services such as housekeeping, dog walking and dry cleaning pick up.
Sofihub from Melbourne, Australia, which is a digital assisted living solution using artificial intelligence and sensor technology to support seniors to live independently.
As a sponsor for the accelerator, DFA will provide mentorship, connections and resources to help accelerate the growth of the ag tech and dairy food product start-ups selected.
Workspace facilities will be provided at Sprint Accelerator in Kansas City.
just-food in-depth feature: How is Big Food using accelerators and incubators?