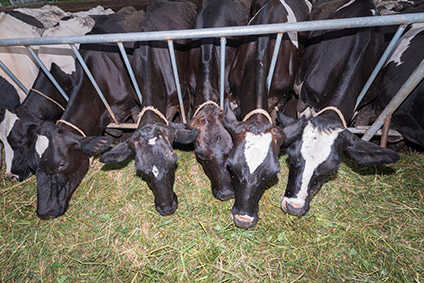 A new dairy group has been established to help the UK farming, meat processing and veterinary sectors achieve new government targets for antibiotic use on farms.
The move follows the introduction by the UK government last September of an average national target of 50mg of antibiotic per kg of weight by 2018. This compares with 62mg/kg used in 2014, representing a 19% cut in four years. The targets were revised in response to the findings of antimicrobial resistance review, set up by former prime minister David Cameron and headed by Lord Jim O'Neill.
Each livestock sector is establishing its own objectives via a task force set up by RUM, the agricultural and food industry alliance which promotes the responsible use of medicines in farm animals.

The Dairy Antimicrobial Stewardship Group will be chaired by Devon dairy farmer Di Wastenage, and a council member for the Royal Assoication of British Dairy Farmers (RABDF). It includes representatives from the food industry, such as Arla Foods, farming unions and animal health bodies such as the National Office for Animal Health and the British Cattle Veterinary Association.
"Antibiotic use is of growing importance given concerns over antibiotic resistance," Wastenage said. "The formation of the group is important to deliver the strategy and will ensure the dairy sector is well placed to reach its targets. Reducing the use of antibiotics must not compromise the health and welfare of dairy cows either, which is why a responsible approach to this challenge is needed. The strategy will also be an opportunity to improve the health and welfare of the dairy herd, and to raise productivity."
A key element in achieving the group's goals will be providing specialist training for vets and farmers, enabling both professions to work together on responsible use of antibiotics.
When the UK government announced the new targets, it was met with a mixed response from farmers and manufacturers. Some aspects, such as a public awareness campaign, were welcomed. But the National Office for Animal Health (NOAH), representing the animal medicines industry, has criticised the "inappropriate targets" for reduced use, arguing it is counterproductive.
Limiting the amount of antibiotics that can be used will simply encourage vets and farmers to either cut short treatments, or avoid treatment altogether, leading to animal welfare problems it claimed. "As long as we rely on animals as a source of food production, we have an obligation to care for their health and well-being," NOAH chief executive Dawn Howard said.