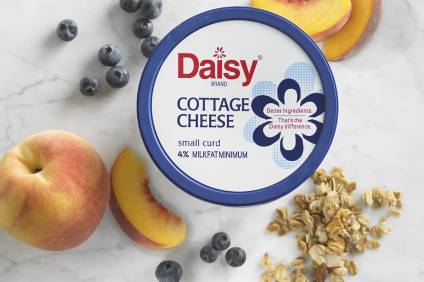 US-based dairy manufacturer Daisy Brand is to expand its facility in Wooster, Ohio, including the construction of a 100,000 sq ft plant to house several new packaging lines.
According to a statement from the city of Wooster, the move follows Daisy's launch of sour cream production at the Wooster facility last September. The expanded facility will reportedly see cottage cheese manufactured at the site for the first time.
A spokesperson for family-owned Daisy, which did not disclose the cost of the expansion project, said: "Wooster continues to be attractive for Daisy to invest, as the location, employees and milk supply allow us to produce quality products for our consumers."
Wooster city's statement said Daisy executives confirmed last September that the company needed "additional space in order to increase manufacturing capacity" for all its dairy products. "The Wooster facility was considered for the expansion opportunity, along with Daisy Brand's other out-of-state facilities," the city said.
Daisy's decision to expand in Ohio was "influenced" by a "comprehensive incentive package" drawn up by the city and local authorities including the Wayne Economic Development Council, which did not disclose the terms of the package.
Wooster city mayor Bob Breneman said: "Our economic development team worked together to fine tune a competitive offer in order to secure Daisy's new investment in our community. We look forward to continuing the positive relationship that we have established with the Daisy Brand organisation."
Daisy products include a range of own-label kosher and gluten-free sour cream and cottage cheese items. The company said more than 90% of US grocery stores stock its products, which are also available from food service outlets.