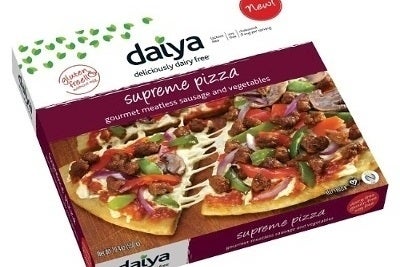 Dairy-free group Daiya Foods and meat-free company Beyond Meat have joined forces to launch a Daiya-branded pizza in the US that is free from dairy, meat, soy and gluten.
The Supreme Pizza combines Daiya's dairy-free mozzarella style shreds and Beyond Meat's meatless sausage on a gluten-free crust.
Michael Lynch, Daiya vice president of marketing, said: "With over 22m vegetarians, a third of the population who is dairy sensitive, and an ever increasing number of people now following a plant-based diet, we are fortunate to cook up our latest creation with industry leader Beyond Meat, who is well known for revolutionary and great-tasting, plant-based products that offer the same taste and texture of meat."
Daiya Supreme Pizza joins five other Daiya pizza varieties including Cheeze Lover's, Margherita, Fire-Roasted Vegetable, Mushroom & Garlic and Pizza Bianca.