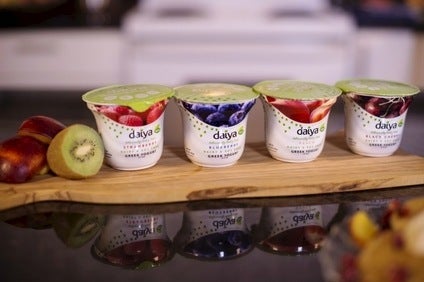 Canadian dairy-free firm Daiya Foods has launched a Greek yoghurt alternative in its domestic market.
The firm said the launch marked its entry into the breakfast products market with previous offerings spanning the lunch and dinner and snack categories.
The Greek yoghurt alternatives are available in four flavours: peach, strawberry, black cherry and blueberry.
"Since hitting grocery shelves nearly six weeks ago, sales are significantly exceeding our expectations," said Michael Lynch, Daiya vice president of marketing. "This is a strong testament to the growing demand for plant-based options and also demonstrates we're meeting a real consumer need."
The yoghurt alternative is made using a blend of coconut, vegetable oil and pea protein.
"Daiya prides itself in offering better-for-you versions of the everyday foods people love to eat," added Lynch. "Whenever we go into the test kitchen, our goal is to enable people to enjoy the wonderful experience of dairy without any compromise. This rich and creamy Greek yoghurt alternative delivers the taste and texture of traditional yoghurt, along with better nutrition that today's mindful consumers crave."