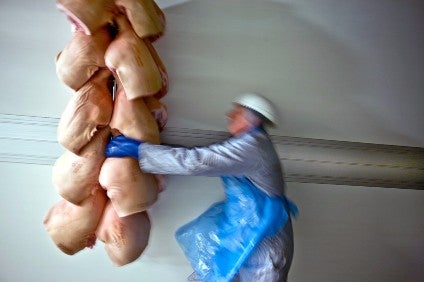 Danish Crown plans to halt its night shift at a pork abattoir in the city of Ringsted due to the lower-than-expected supply of pigs, with about 140 people expected to lose their jobs.
Slaughtering will be scaled down at the plant from 1 June, according to a statement issued by the meat giant today (9 March). While the supply of pigs has increased over the past few months, it is not enough to warrant employees working through the night, when typically 11,500 animals are slaughtered a week during the twilight shift.
Of the 140 workers who will lose their jobs, 70 will be offered holiday relief work until September.
Last May, Danish Crown said it launched an "ambitious growth package" to halt the decline in the supply of slaughter pigs.
"The plan has succeeded, and since 1 October we have seen a 2.5% increase relative to the previous year – however, the night shift was established on the assumption of a 5% increase."
Per Laursen, vice president of production at Danish Crown Pork, expressed regret at the decision.
He added: "I'm sorry that we have to say goodbye to so many highly-skilled employees, who have worked hard since we started the extra night shift last summer. They have done a great job, as have their colleagues who helped to train them."
Danish Crown had to take similar measures last year at its subsidiary Tulip, when it reduced the working week to five days from seven at its UK plant in King's Lynn, Norfolk, which produced tinned, cooked meat.
Around 180 jobs were said to be at risk when the announcement was made in July.