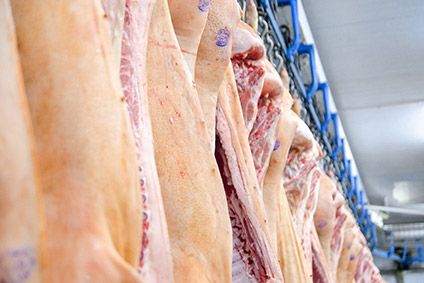 Danish Crown plans to cut about 100 jobs at a slaughterhouse in Germany as an outbreak of African swine fever dating back to September prevents the business from exporting pork to destinations outside of the European Union.
Headquartered in Randers, Denmark, the pork and beef processor said in a statement "the outbreak of African swine fever in Germany in the autumn of 2020 put a stop to exports of German pork to more or less all countries outside of Europe".
The deboning facility concerned is located in the municipality of Boizenburg in the Ludwigslust-Parchim district in Mecklenburg-Western Pomerania, around 60 kilometers east of Hamburg. As well as the EU, the site ships to Japan, which has banned imports of German pork due to the African Swine fever outbreak, as have other non-EU countries.
"[Because] there are no prospects of re-establishing exports to Japan, it is not financially viable to maintain production activity at the existing levels," Danish Crown said. just-food has asked the company to quantify the cut in production.
Per Laursen, the head of pork production for Danish Crown, added: "During the past six months, we have found it difficult to obtain acceptable prices in Europe for the products from our Boizenburg facility. As there are no prospects of the situation changing anytime soon, we have now made the difficult decision to cut production by half, close down one shift and lay off 100 employees.
"We have made every endeavour to maintain production, but it simply makes no sense to uphold the existing levels when we can obtain better prices by exporting the goods from Denmark."
Just after the emergence of African swine fever in Germany, Danish Crown announced it was hiring hundreds of workers at its pork processing sites in Denmark amid what it said at the time was "huge" demand for the meat from Asia, particularly China and Japan.