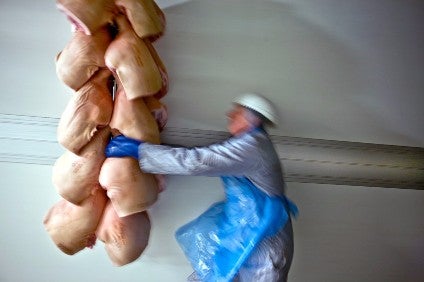 Pork producer Danish Crown is expanding its operations in China with the purchase of a majority stake in Shanghai Natural Casing Company.
The deal will be conducted through the Denmark-based firm's subsidiary DAT-Schaub and will boost the co-op's capacity in casings for sausage and salami production.
Financial terms were not disclosed in a statement today (28 March).
DAT-Schaub buys casings originating from pigs and sheep and these are cleaned and salted at its abattoirs and shipped to China or Portugal. The company said it already owns part of a similar business located about three hours north of Shanghai.
Shanghai Natural Casing also processes casings for US firm DCW Casing, in which DAT-Schaub has a controlling interest.
Jan Roelsgaard, the chief executive of DAT-Schaub, said of Shanghai Natural Casing Company: "It's a well-managed company, but it's still possible to enlarge the capacity, which is essential for handling the rising volumes of raw materials we've gained access to over the past year."
Danish Crown's acquisition spree is gathering pace. Earlier in March, the company said it had purchased Denmark-based pizza toppings maker DK-Foods, which will operate under another of its subsidiaries Tulip Food. And in February, its Polish meat arm Sokolow Group entered into an agreement to acquire peer Gzella Meat Group.
And over the past year, DAT-Schaub said it has acquired majority stakes in five companies in South America and Spain.
"DAT-Schaub has a strong brand and sells its products all over the world," said Jais Valeur, the group CEO of Danish Crown. "In my view, this is a perfect set off to become the undisputed market leader globally, which is also our clear – and definitely realistic – ambition."