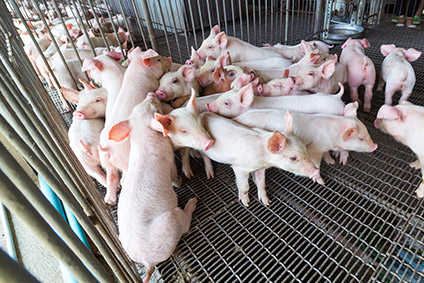 Pork giant Danish Crown has announced a number of cost-saving measures including relocating a number of functions to Poland and putting the construction of its new headquarters on hold.
The Denmark-based farmer-owned meat cooperative said the newly-revealed initiatives build on its 4WD cost-savings strategy announced nearly two years ago and revealed it will mean the loss of 50 jobs in its home market.
It is blaming the need to cut costs on low pig prices.
The new initiatives include increasing the target for savings in procurement, moving some administrative functions to Poland and cancelling the construction of a new head office in the Danish city of Randers "until further notice".
Until now, the target had been to reduce the cost of procuring everything but raw materials from Danish Crown's owners by DKK500m (US$76.2m) before the end of the 2020/21 financial year. That target has now been raised to DKK650m.
"Virtually all of the new initiatives announced in November 2016 are now under way, and the Danish Crown management has therefore decided to go one step further in a number of areas," it said.
Group CEO Jais Valeur said: "We continuously review our strategy, and in three specific areas we have decided to strengthen our efforts as we believe this will benefit the group in both the short and the long term.
"However, these are not easy decisions to make as it means saying goodbye to a number of employees in different parts of the organisation. At the same time, we are postponing the construction of our new head office, which will no doubt be a disappointment for our employees in Randers."
The plans for a new joint head office for Danish Crown and, its tinned meat subsidiary, Tulip, were announced a year ago. The idea was to transform the former sausage factory in Randers into a modern office building with 23,000 sq m of floor space, but these plans are now being put on hold.
"The situation is that the difference between the cost of producing a pig and the price at which it can be sold is being pressured by the low pig prices," Valeur said.
"As a result, we do not feel that this is the right time to go ahead with this project. Having Danish Crown and Tulip Food Company move in together still makes a lot of sense, but it will not happen at the beginning of 2020 as originally planned."
Group CFO Preben Sunke said it will take time to realise the planned costs savings but believes the company is making the right decision over its purchasing strategy.
"We have established a new procurement organisation, and our specialists have identified significantly higher potential savings than were originally estimated in our strategy process. These are not savings which we can realise overnight, but the process has confirmed that we were right to invest in new procurement expertise, and this is the reason why we are raising our target," the CFO added.
Danish Crown will in the coming years bring together a number of administrative functions in a new global business services centre in Poland. The first step is the transfer of approximately 50 jobs from Randers to Krakow in Poland.
"This will bring benefits in relation to serving our customers as well as delivering specific savings," said Sunke.
"However, it is a complicated operation, and it is therefore important for us that the project is rolled out at a pace which is not going to adversely affect our business. The whole process is therefore expected to take two to three years.
"Once fully implemented, the transfer is expected to generate annual savings of around DKK40m, which will contribute to realising our strategic target."
Earlier this month, Danish Crown announced it would be creating 100 new jobs through the addition of a new production line at one of its abattoirs in southern Denmark.