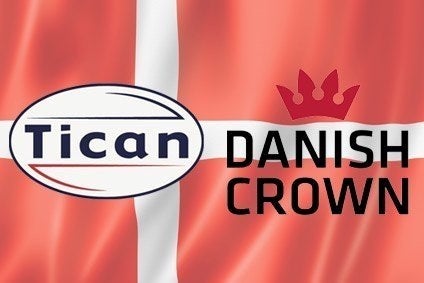 Danish Crown and Tican, two of Denmark's largest slaughterhouse co-operatives, have proposed merging their operations.
The move follows a period in which Tican has been seeking a financial partner, the companies said in a joint statement yesterday (24 February). If the merger goes through, the farmer owners of both Tican and Danish Crown would be "on an equal footing" in the joint company.
Announcing the deal, Tican chairman Jens Jørgen Henriksen conceded concerns over competition issues meant a tie-up with Danish Crown was not initially considered when Tican kicked off its ownership review more than a year ago. "We had not expected that Danish Crown would be a possible partner, but this merger is without doubt the preferred option for Tican members," he said.
However, Danish Crown stressed it has consulted with Danish and international competition experts. "We got a clear message," Danish Crown chairman Erik Bredhold said.
According to Danish Crown's assessment, both Tican and Danish Crown are international companies that generate the majority of their revenue outside Denmark and a substantial part outside the EU.
Danish Crown CEO Kjeld Johannesen said Danish Crown was a "strong company" without the merger but added there are some "sensible synergies" a tie-up would enable the combined company to leverage.
The deal remains subject to national and European competition approvals as well as the backing of each group's farmer owners.