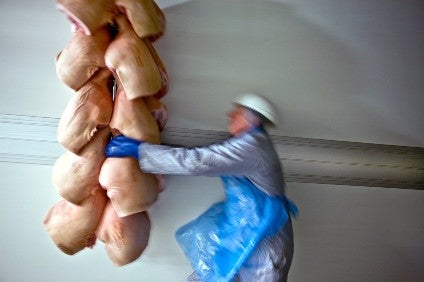 Pork processor Danish Crown plans to hire hundreds of workers across three of its abattoirs amid "huge" demand for the meat from Asia, particularly China and Japan.
It is seeking to take on 375 new staff to work at the company's sites in Ringsted, Horsens and Blans, and the demand for pork is such that it is willing to train people not experienced in abattoirs.
A single case of African swine fever (ASF) detected in Germany last month in the north-east state of Brandenburg has added to the demand for Danish pork as countries like China and South Korea look for alternative sources after banning imports from the European nation.
Danish Crown said Denmark already had 3% more pigs for slaughter, compared to a year ago, and the ASF case in Germany has only exacerbated the shortage of workers to process the animals.
"For the past 18 months, demand for Danish pork has been really good, and it has become even greater now that Germany is barred from most markets in Asia," Danish Crown said. "China is by far the largest market for Danish pork, but Japan, Korea, Australia and the countries in South-east Asia have also turned their attention to Denmark. For decades, Japan has been an attractive market for Danish pork."
Søren Eriksen, the CEO of Danish Crown's pork division, said the company expects 15,000 more pigs to come up for slaughter each week in the next two to three months and is hiring ahead of time in preparation