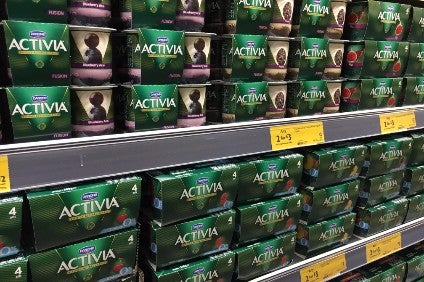 Analyst reaction to French dairy giant Danone's latest set of results appears to be largely positive.
Danone, the world's biggest producer of yoghurts, recorded a higher than expected rise in first half operating profit on Thursday (27 July), although sales growth slowed in the second quarter.
The firm, whose brands include Actimel and Activia, posted H1 operating profit of EUR1.72bn (US$2bn), a like-for-like increase of 7.3%. Sales amounted to EUR12.1bn, up 0.4% on a like-for-like basis.
In the post-announcement conference call, led by CEO Emmanuel Faber and CFO Cécile Cabanis, major discussion points and questions were related to the slow start to the year, the integration of US acquisition WhiteWave and the company's guidance for the rest of 2017.
The company said it expects growth to quicken in the second half of the year for all segments, with a margin improvement coming, partly, from an acceleration of investments.
Danone said it is facing challenges in Brazil, counterbalanced by a strong performance by Alpro. It faces double-digit negative growth in the country amid weak consumer sentiment. As turnaround measures, the whole portfolio and price positioning are being reviewed, especially in relation to Activia.
Danone said it is optimistic about its early life nutrition segment in China. Aptamil keeps expanding and continues to be very successful in the country, it said, and it expects strong ongoing growth for the second half and a solid margin improvement for this segment in its full-year results.
It also told analysts that it expects to see improvements for its water business in China. The segment grew by only 0.8% in H1-17 compared to mid-single-digit growth elsewhere, and double-digit growth for Evian in the US.
But Danone said demand in China is getting stronger and the company is gaining market share. An improvement is expected for Q3.
Danone said it sees a stabilisation for its transition phase in China and continues to build a strong local platform for the overall water business.
Reacting to the Danone results as a whole, Andrew Wood, senior research analyst, European food, at Bernstein, said: "Overall, Q2/H1 was generally positive…broadly in-line with expectations on sales, but well ahead on margin and EPS…while FY guidance was maintained, with a promise of accelerating top-line growth in H2.
"As Danone aims for reliable and consistent results, with no negative surprises (and hopefully some positive ones) this was a (small) step in the right direction".