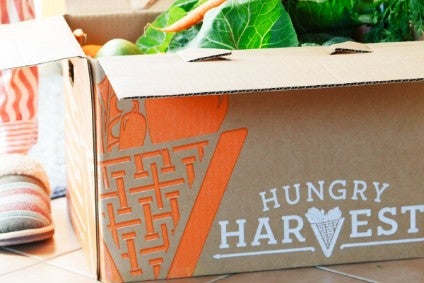 Danone has invested in Hungry Harvest, a US firm delivering "oddly-shaped" or surplus fruit and veg to consumers' homes.
The yogurt and infant-formula giant has taken part in a Series A funding round worth just short of US$14m, which was led by Creadev, a private-equity firm controlled by the Mulliez family behind French retailer Auchan.
Baltimore-based Hungry Harvest, set up in 2014, delivers in eight states, plus Washington D.C. Evan Lutz, the company's CEO, said the $13.7m of funding would help "take Hungry Harvest to the next level in our long-term mission of fighting food waste and food insecurity in the US".
Danone made the investment in Hungry Harvest through its venture-capital arm Danone Manifesto Ventures, which has backed companies including US meal-kits delivery firm Yumble and Phenix, a Paris-based business dedicated to cutting food waste through a consumer app and work with food manufacturers.
Jean-Francois Hurel, chief investment officer of Danone Manifesto Ventures, said Danone's investment would help Hungry Harvest "continue reducing food waste and supporting efforts to improve healthy diets in the US by providing access to affordable and nutritious produce".
just-food's free-to-read Guide: Big Food's stake in the future – in-house venture-capital funds