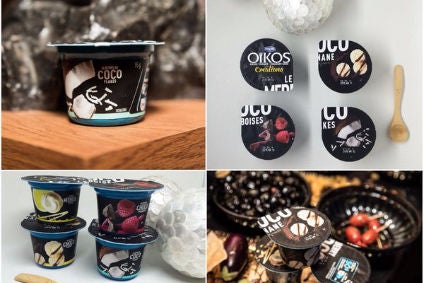 Danone's US arm has announced plans to simplify its ingredients list and follow sustainable agriculture practices
The company said today (27 April) it plans to bring all products in its three main brands in the US – Dannon, Oikos and Danimals – "towards the use of fewer and more natural ingredients that are not synthetic and non-GMO". It also said it was committing that feed for the ingredients that make the brands would be non-GMO, within a transition period of three years.
Danone said the changes to ingredients would start in July.
By December 2017, product labels will note the presence of GMO ingredients for those lines in which the ingredients remain. Looking further into the future, Danone said its ambition is to also "evolve the other brands in its portfolio".
"The changes will enable consumers to make everyday choices for themselves, their family and children consistent with their wish for natural and sustainable eating options, choosing which agricultural and environmental model they favour," Danone said.
The French group has also committed to offering products in the US that come from "a more sustainable agriculture" by working with its dairy farmer partners and their suppliers to progressively implement the use of sustainable agriculture practices and technology that leads to better soil health, better water management, an increase in biodiversity, and a decrease in carbon emission.
"We created a new way to work with dairy farmers to improve our shared sustainability priorities," said Mariano Lozano, president and CEO of The Dannon Co., Danone's US arm. "Our ambition is to produce healthy food that is affordable, creates economic and social value and nurtures natural ecosystems through sustainable agriculture. Although our journey is independent from that of our organic sister companies, we have learned a lot from and are inspired by Stonyfield and Happy Family."