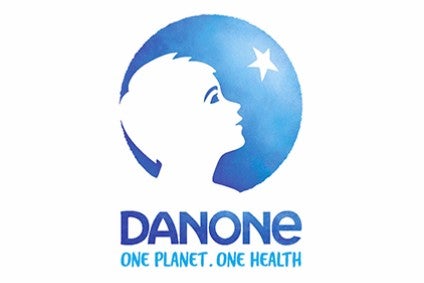 Danone has trimmed its full-year sales guidance after relative underperformance in its essential dairy and waters businesses caused the French dairy behemoth to miss analysts' expectations in the third quarter.
Group like-for-like sales (LFL) increased 3% in the third quarter, short of the market consensus for a 3.8% rise, while year-to-date sales were up 2.1%. Danone said in a statement today (18 October) that based on the nine-month performance it now predicts LFL sales of between 2.5% and 3%, compared to a prior estimate of 3%. The recurring operating margin target was kept at 15%.
Danone said in its earnings commentary: "In 2019, Danone will continue to progress towards its 2020 objectives by strengthening its operating model through its priorities: accelerate growth, maximise efficiencies and allocate capital with discipline. Delivery of its agenda of sales growth acceleration and improved recurring operating margin will be supported by valorised innovations, active portfolio management, and further savings from the protein efficiency programme and WhiteWave integration synergies."
It would appear the problems lay more in essential dairy and waters. While the essential dairy and plant-based business (EDP) was noted as the culprit for the underperformance, Danone said the latter "delivered consistent strong growth".
EDP sales climbed 0.7% in the third quarter on a LFL basis based on a 3.4% increase in value but also a 2.7% drop in volumes. Danone explained: "North America and CIS are facing challenging consumer environments, while momentum outside of these regions continues to be positive. Plant-based delivered consistent strong growth, including a double-digit growth of Alpro."
In Europe, Danone said with respect to EDP that it "continues to make progress in the transformation of its dairy business to move its portfolio towards new generations, and in the execution of its plans to expand plant-based business in the region".
Meanwhile, in North America, EDP sales were flat, with a mixed segmental performance.
Emmanuel Faber, chairman and chief executive, commented: "Across Danone, many of our initiatives aimed at quality of growth, product innovation, price-mix enhancement and revenue management discipline are gaining further traction with positive outcomes for our consumers and customers. Mindful of growing geopolitical uncertainties and softness in some markets, we continue to transform our business at pace so that it is well-positioned to respond to market needs. This keeps us on track to deliver sales growth acceleration, steady improvement in recurring operating margin and strong recurring EPS expansion."
Danone's Specialised Nutrition divisional sales climbed 9.8% (LFL), with value up 9% and volumes 0.8%. Early Life Nutrition sales rose more than 10%.
Martin Deboo, a consumer goods analyst at Jefferies, said of Danone's results: "Quarter three, LFL has missed materially and fiscal year '19 top-line guidance has been trimmed. Given our caution on infant formula, the irony is that this came in above our (top of market) expectation. The principal drivers of miss were EDP and waters."