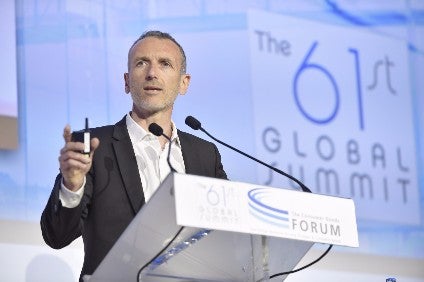 Danone's push to focus more on healthier and environmentally-friendly products will only be shown to have worked if the value of the French giant's shares grows, CEO Emmanuel Faber has insisted, amid a change in the Alpro maker's new legal framework.
Last month, Danone's shareholders voted through a move for the food and beverage maker to become an "enterprise à mission" company. Introduced in 2019 by the French government, an "entreprise à mission" is defined as a company which has aligned societal and environmental goals with its purpose and set out those targets in its articles of association.
Speaking to analysts yesterday (30 July) after Danone published its first-half financial results, Faber was asked, with the company's new legal status and with its shareholders in mind, if he could define success over a five-year period.
"We will not prove our model right until we see that in the share price," Faber said. "It's not a matter of contradicting the value creation, it's really about the way we create that value in the short, medium, long term."
The Danone chief executive said becoming an enterprise à mission would see the company "install a visible governance of the key objectives of the company". Faber listed four – "impacting health locally, on preserving the resources of a planet that we're using, on embarking our people in building the future of the company, on being inclusive on our growth".
He added: "I think if you look at these four objectives, close your eyes for a moment and then open the newspaper, you can see how relevant they are to be as an organisation and pursuing those goals in terms of how this organisation can drive preference, whether that's about customers, consumers, suppliers, of course employees, and possibly much bigger stakeholders that are going to be health authorities, government."
An "independent committee" is to report to Danone's shareholders on the company's progress against its objectives," Faber continued. "We believe – I strongly believe – that it builds a competitive advantage. As you know, ESG [Environmental, social, and governance criteria] is a growing part of the way we also get financing. You remember this syndicated banking loan that we have that is indexed in terms of its margin on our ESG metrics.
"We have already had discussions around the enterprise à mission – the enterprise à mission story – with a number of constituents about what impacts our P&L, what might be positively affected. We see that as a way to long term increase our alpha and decrease our beta."
In February, Activia and Evian owner Danone announced it was to spend EUR2bn on "climate-impact" investments – with efforts to make product packaging more environmentally-friendly central to the programme.
The company said it was planning a series of changes to the packaging of certain products and is also setting up an "accelerator" to invest in areas such as materials and recycling.
Speaking to analysts yesterday, Faber said some of its investments on packaging would be "delayed" due, in part, to "a lack of availability of some materials like rPET".