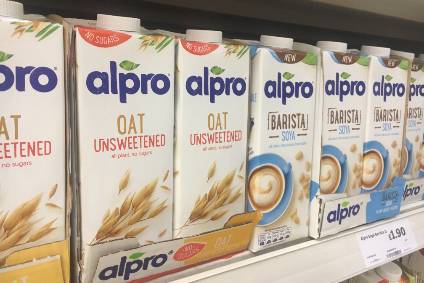 Danone is restructuring its management – with the French dairy giant's CFO deciding to leave – and reviewing its portfolio to adapt to the challenges created by the virus.
The company is appointing a COO and creating another regional chief executive role, with a new position of CEO of Danone International.
Cécile Cabanis, Danone's CFO and EVP for strategy, tech, data, cycles and procurement, has chosen to leave the company after 16 years with the business.
The Alpro and Activia owner is reviewing its product portfolio and revealed today (19 October) the company is weighing up the future of its operations in Argentina and its Vega brand in the US.
Danone chairman and CEO Emmanuel Faber said: "Cécile and I have been working together for many years, she has been instrumental in all the major transformations of our company and she has been close by my side since I am in my current role. We are going to enter into a new phase of transformation for Danone, adapting to the new world, on which the executive committee, Cécile and myself are working together and have complete agreement. Yet, her decision to open a next chapter is a profound, personal one, and I respect it."
The changes were announced alongside Danone's third-quarter sales. The Actimel maker booked sales of EUR5.82bn (US$6.82bn), down 9.3%, with a more than seven-point hit from exchange rates.
Danone said the result equated to a 2.5% fall on a like-for-like basis and pointed to a "sequential improvement" following a 5.7% decline in like-for-like sales in the second quarter.
Faber added: "I am thrilled that with the full support of our board, we are already moving forward with our adaptation plans, laying the ground today to their execution with a new organisation of the executive committee. It will increase our focus on delivery, immediately reap the synergistic benefits, from a growth and efficiency perspective, of our unique and cohesive portfolio of health-related categories, and finally, accelerate the finalisation of our ambitious plans, which we expect to start being implemented as soon as Q1 next year."
Henri Bruxelles, the executive vice president of Danone's waters business and its operations in Africa, has been named chief operating officer for end-to-end design to delivery. Véronique Penchienati-Bosetta, executive vice president for the company's specialised nutrition business, has been appointed CEO of Danone International. Shane Grant is heading Danone's business in North America, as disclosed by Danone in May.
Juergen Esser, the CFO of Danone's waters business and its operations in Africa, is to take on the group CFO role.
We have watched and learnt much from the Covid19 crisis. In response we are already moving forward with our adaptation plans with a new organization of the Executive Committee. Objective: reconnect ASAP to our profitable growth agenda. https://t.co/DoVJ8wHQVM

— Emmanuel Faber (@EmmanuelFaber) October 19, 2020
Danone set out its changes under a corporate motto of "deliver, reshape, review, adapt".
Bruno Monteyne, an analyst covering Danone for AllianceBernstein, said: "When a company decides its organisation structure and management need material change, and the first word of the tag line is 'deliver', it suggests delivery isn't where it needs to be today. The company ties this shift to the changes brought by Covid, but given the nature of the changes they are talking about, we think Covid was a good opportunity to accelerate plans they may have been drawing up already."
just-food analysis – Danone looks for lift after recent woes