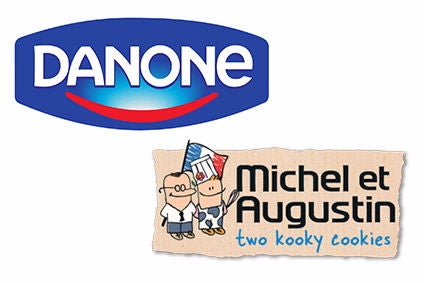 French dairy giant Danone has confirmed it is in "exclusive negotiations" to acquire a minority interest in premium biscuit-to-dessert maker Michel et Augustin via its newly-formed investment vehicle.
Michel et Augustin was founded in 2004. It is a French company that produces an "innovative" premium range of biscuits, dairy products, fresh desserts and beverages. In 2015 the business generated sales of around EUR40m (US$44.3m), representing "steep" year-on-year growth.
"Danone's expertise would provide strong support to Michel et Augustin, accelerating its international development – particularly in the United States – while maintaining its originality," Danone said in a statement today (29 June).
The acquisition, which anticipates a gradual increase of Danone's stake in Michel et Augustin's share capital, remains subject to consultation with Michel et Augustin's employee representative bodies. Financial details – or the size of the stake Danone is eyeing – were not disclosed.
Danone said this is the first project that its new corporate venture capital unit, Danone Manifesto Ventures, has engaged in. Based in New York, the newly formed investment fund will be "fully operational" this autumn, Danone added.
Danone said the establishment of an investment arm will enable it to "support the development" of high-growth, innovative companies. Through Danone Manifesto Ventures, Danone will provide financial and operational support but target companies will retain their independence. At the same time, Danone said its teams will be able to "build on new ideas and practices from younger companies".
Danone is not the first of the large food multinationals to establish an investment unit to tap into fast-growth SMEs.
In October, General Mills announced it had decided to change NPD unit 301 Inc's focus from developing products in-house to centre on providing capital to emerging food brands. The Cheerios maker said the unit wanted to create "breakthrough innovation in the food space".
In February of this year Campbell Soup Co. revealed it is establishing a US$125m venture capital fund that will invest in start-ups participating in the "disruption" of food trends. The vehicle, called Acre Venture Partners, is part of the company's efforts to expand in rapidly growing areas of the food sector, such as natural and fresh foods.
Meanwhile, most recently, Kellogg revealed last week that is establishing an investment vehicle, Eighteen94 Capital, that will make "minority investments" in companies pioneering "next generation innovation" in the food sector.