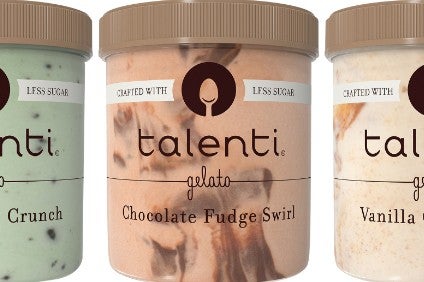 just-food publishes the most notable product development from the international food sector, presented in bitesize format to give you a flavour of the innovation from your peers and competitors announced this week.
Danone launches Alpro yogurts in France
The French dairy giant has announced a notable move on one of the main brands it picked up with its acquisition last year of US business WhiteWave Foods.
Danone has rolled out a range of Alpro yogurts in France, adding to the range of products sold under the dairy alternative brand in its home market but a launch into the heartland of the French group's dairy portfolio.
The news was remarked upon by Danone CEO Emmanuel Faber on Twitter yesterday:
And here they are! The first @Alpro plant-based yogurt alternatives are now on shelves in France! We continue to bring the Alimentation Revolution to life, offering new food choices to the growing number of flexitarians. Congrats to the teams for this launch! #OnePlanetOneHealth pic.twitter.com/6qVbVhD8qo

— Emmanuel Faber (@EmmanuelFaber) February 8, 2018
Unilever launches low-sugar Talenti ice cream in US …
The world's largest ice-cream maker has rolled out a line of Talenti ice cream with less sugar than ice cream already marketed under the brand.
Unilever, which has seen its ice cream sales in the US come under pressure amid competition from upstart brand Halo Top, has launched Talenti Crafted with Less Sugar, which uses monk fruit to sweeten the product.
The ice cream, which comes in three flavours, contains "120 calories per serving, less fat, and half the sugar compared to regular ice cream", Unilever said.
Unilever has also launched three more flavours to its existing line of Talenti gelato and sorbetto range.
The new products have a suggested retail price of US$4.99-5.99 per pint.
… and Unilever adds to Ben & Jerry's range in US
The FMCG giant's activity on ice cream has also taken in Ben & Jerry's.
Unilever has launched Moo-phoria, which it said has 60-70% percent fat and "at least 35% of the calories found in traditional ice cream".
The new ice cream, available in pints and in three flavours, is being rolled out into "grocery stores nationwide soon" for a suggested retail price of $4.89.
Nestle launching Thomy vegan sauce in Germany
Nestle is launching a vegan hollandaise sauce in Germany through its Thomy brand.
The sauce is free of animal products but, the company says, retains taste and creaminess.
Nestle is releasing the product in time for Germany's asparagus season. It quotes research suggesting 67% of Germans like to eat their asparagus with hollandaise sauce.
Thomy Les Sauces Hollandaise Vegan will be available in a 250ml pack from 1 March with an RRP of EUR1.39 (US$1.70)
Muller reduces sugar in Fruitopolis range
Dairy giant Müller has reformulated its Müllerlight Fruitopolis range in the UK, so it now includes 0% added sugar.
The new version of the product contains 30% less total sugar.
Fruitopolis, a Greek-style yogurt range with a fruit layer on top, was launched in the UK in 2012. The new recipe is available now in three flavours: Strawberry, Cherry and Peach & Passionfruit, in 130g single flavour four-packs with a RRP of GBP2.69 (US$3.75).
Michael Inpong, chief marketing officer at Müller, said: "As a business we're continuing to take significant steps, underpinned by our unprecedented investment, to not only reduce added sugar across our brands, but to empower consumers to make healthy, active and balanced lifestyle choices."
Bubs' goat milk formula to go on sale in Woolworths
Baby formula group Bubs Australia has said its goats milk infant formula will soon be available on the shelves at Woolworths' supermarkets in its home market for the first time.
Its Bubs Advanced Plus Goats Milk Infant Formula product will be available in selected Woolworths stores – those that have shown the highest volume of infant formula sales – from mid-April.
Bubs has previously secured deals with Woolworths' supermarket competitors IGA and Coles.
Bubs Australia chief executive Nicholas Simms said: "Goat dairy and infant formula is experiencing rapid sales growth domestically and overseas. Woolworths' ranging of Bubs Australian made goat milk formula will only further enhance the appeal to consumers both in Australia and internationally in China and South East Asia."
McCormick Grill Mates teams up with Red Truck beef jerky
US-based McCormick & Co. is launching three new 'Grill Mates' snacks in collaboration with gourmet beef jerky maker Red Truck.
Two varieties of different flavour McCormick Grill Mates Beef Jerky, and a Steak Bite are available in select grocery and convenience stores across the US:
McCormick Grill Mates Brown Sugar Bourbon Beef Jerky; McCormick Grill Mates Smokehouse Maple Beef Jerky; and McCormick Grill Mates Montreal Steak Bite.
Spiced with McCormick's Grill Mates seasonings, the snacks are rich in protein, are free of MSG, and come in three-ounce bags.
"The McCormick Grill Mates brand with its loyal fan base and bold flavour is a perfect fit with our high-quality Beef Jerky and Steak Bites," said Richard Cresswell, president of Red Truck.
Jeff Knabe, senior marketing manager for Grill Mates, added: "Grill Mates is excited to team with Red Truck to offer beef jerky products that provide that 'just grilled' taste in every bite."
Bite UK launches exclusive snacks for Yo! Sushi restaurants
Bite UK has secured an exclusive deal to supply a new range of free-from snacks to Yo! Sushi restaurants in the UK.
Available in three variants – Yo! Sushi Wasabi Peas, Yo! Sushi Chilli Rice Crackers and Yo! Sushi Chilli Peanuts – the snacks retail at GBP1.50 (US$2.10) for a 50-gram bag and will be sold at the restaurant's takeaway counters in February.
Founded in 2015 by Jason Bull, Yorkshire-based Bite UK is the sister company of Eurostar Commodities and is a family-owed business dedicated to healthy and gluten-free snacking. Its other brands include Pure Bite, a Spiffing Sprouted range, Kintaro snacks and sushi rice, Spiffing organic flours and rice, as well as its own branded products.
Bull said of the deal with Yo! Sushi: "We are very proud to be working with such a ground-breaking brand. We admire YO! Sushi's creativity and pioneering spirit."