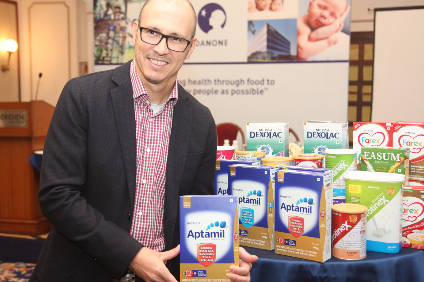 French dairy giant Danone has launched its Aptamil infant formula brand in India as part of what it said are "aggressive plans" to grow its nutrition business in the country.
Rodrigo Lima, the managing director of Danone's Indian business, said yesterday (16 January) the move "is a landmark step". He said: "This is the first time we are bringing our global infant formula products range to India."
Lima added: "We have aggressive plans to introduce many new products in India this year to strengthen our nutrition portfolio."
Danone said Aptamil will be manufactured in northern India at its facility at Lalru, Punjab, where the company announced last year it was investing INR1.5bn (US$22.6m) in expanding its production capacity at the site for infant formula products in India.
In India, Danone said four Aptamil variants will be on offer in 400g sizes at a cost of INR640 (US$9.38) each: Aptamil Pre Term, Aptamil Stage-1, Aptamil Stage 2, Aptamil Stage-3. The company said the products "will initially be made available in 20 cities across India".
Danone said previously it is working with Indian farmers to develop a sustainable supply of "quality" raw milk, including efforts under its Academilk programme, which has provided training to more than 5,000 dairy farmers in the country.
Last month, Danone said it was also preparing to launch infant formula in India that caters to the dietary needs of children with "inborn errors of metabolism", or IEM. A spokesperson for the company told just-food: "Treatment of these metabolic disorders requires early intervention including dietary control. There are more than 15 conditions identified by the Indian medical fraternity and Food Safety and Standards Authority of India."