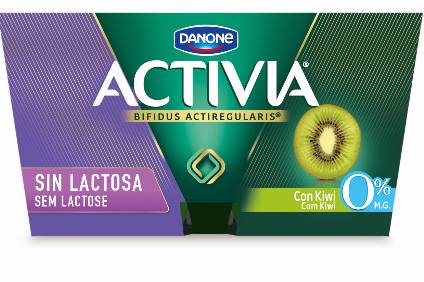 Danone has launched a lactose-free line under one of its flagship dairy brands, Activia, in Spain.
The new ActiviaSin Lactose range – available in natural, kiwi and peach flavours – "offers a lactose-free alternative with natural bifidus that helps the digestive health of consumers with lactose intolerance", Danone said.
There are now "more than 30 varieties of Activia flavours in the different ranges of the brand", Danone said.
The new line-up is on sale in packs of four units at a recommended retail price of EUR.99 (US$2.22).
Last month, Danone reported muted growth in its underlying sales in the first quarter of the year, a result described by the French giant as "in line with expectations".
The company said like-for-like sales from its fresh dairy business fell 2.3% amid a 5.3% fall in volumes. Danone pointed to "difficult market conditions" in Europe and the performance of Activia, two factors that have been affecting its fresh dairy sales for a number of quarters.