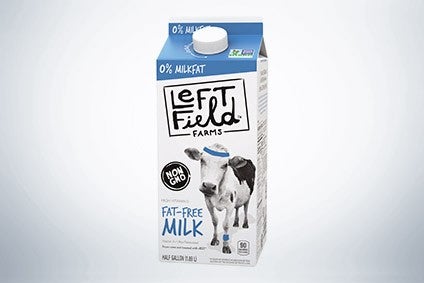 just-food publishes the most notable product development from the international food sector, presented in bitesize format to give you a flavour of the innovation from your peers and competitors announced this week.
Danone's US non-GMO push continues
Danone is rolling out milk in the US certified by the Non-GMO Project, the non-profit that promotes the development of food products that do not contain genetically-modified ingredients.
"Left Field Farms provides options for consumers who want an alternative to conventional milk, in a price range between conventional and organic milk," the company told just-food. "In making Left Field Farms, we go above and beyond what is required for conventional milk. The Non-GMO Project Verified seal indicates that our ingredients are in compliance with the Non-GMO Project standard, and the milk comes from cows fed only from compliant non-GMO feed."
The milk is rolling out now across the US. Danone said there is "a growing consumer preference" products certified by the Non-GMO Project.
Danone already markets non-GMO yogurts in the US under its Dannon, Oikos and Danimals brands. They were launched in 2016, the year the company's US arm set out plans to simplify its ingredients list and follow sustainable agriculture practices.
just-food interview archive, July 2017: Danone CEO Emmanuel Faber on why industry "mindset" on health and sustainability needs to change
Brazil's BRF to roll out discount brand
BRF, the Brazil-based meat and convenience food giant, is to launch a cut-price range of products in its domestic market to try to stave off competition from cheaper foods that have gained in popularity amid the country's economic downturn.
The company will next month roll out 13 products, including sausages and cold cuts, under a new brand called Kidelli. The line will be sold at cash-and-carry and independent stores and not Brazil's supermarkets. A spokesperson said BRF did not want Kidelli to compete with existing brands Sadia and Perdigao. The Kidelli products are to be sold at prices around 25% lower than those on Perdigao lines, she added.
"The idea is to create a combat brand to compete against the low-entry brands that have gained market throughout 2016 and 2017 as a result of the economy downturn. This market segment corresponds nowadays with 30% of total processed food market," the BRF spokesperson said yesterday (9 January).
Huel moves into breakfast cereals
UK nutrition specialist Huel has moved into the breakfast cereal market with the launch of Huel Granola.
The product, which it describes as "the world's first nutritionally complete cereal", launches with two flavours, Original and Berry.
Huel suggests the cereal contains the perfect balance of protein, carbohydrates and fats.
It said that, following the launch of its Huel Bars last year, it became evident that there was a huge consumer demand for lower sugar alternatives of mainstream food products.
Huel Granola, which is 100% vegan, has only 9% sugar, coming from natural sources including brown rice syrup and raw sugar cane.
The cereal has a RRP of GBP4.75 (US$6.41).
Tesco launches 20-strong vegan food range
UK supermarket giant Tesco has launched Wicked Kitchen, a new range of vegan meals, in its domestic market.
Created by Derek Sarno, Tesco's executive chef and director of plant-based innovation – and a well-known blogger on vegan food – the range was launched today (8 January) in 600 UK stores.
The meals include Nana's Mushroom Bolognese, Gunpowder Potato Chana Masala and BBQ Butternut Macaroni, also encompass food-to-go options such as wraps and salads.
Tesco is responding to demand for vegetarian ready meals and meat substitutes which, it says, has increased by 25% in the last year.
The Wicked Kitchen range has a RRP of between GBP3.00 (US$4.06) and GBP4.00.
Snacks firm Graze stretches supermarket range
UK-based healthy snacks business Graze has widened the range of products it sells through supermarkets.
The company has added two Mixes products to the line-up, marking its entry into the dried fruits and nuts snacking aisle.
Graze said its Superfood Mixes contain fruits, nuts and seeds, as well as ingredients including spirulina, chia and flax seeds. Three varieties – Power, Defense, and Boost – are available.
A second line – Energiser Mixes – contain dried fruit and nuts including bananas, sun-dried pears and Californian almonds and Bananas.
Both lines, sold in re-sealable bags, are available at Tesco, Sainsbury's, Asda and Waitrose. They have a recommended retail price of GBP2.79 (US$3.78).
UK's Northern Bloc launches vegan ice cream
Northern Bloc, the fledgling UK ice-cream maker stocked at major retailers including The Co-op, has added a "dairy-free, vegan-friendly" line to its portfolio.
The Yorkshire-based business has secured a deal to market the range through Suma Foods and select foodservice customers.
Flavours in the new range, to be available in March, will include Peanut & Chocolate, Hazelnut & Rose and a product made with strawberry and yuzu, which is a Japanese citrus fruit.
Jude's expands ice cream range with Little Jude's milk drinks
UK ice cream company Jude's is launching its second product under the Little Jude's brand with fortified milk for children.
Little Jude's Chocolate Milk and Little Jude's Banana Milk – designed for children of 18 months and over – will arrive in Sainsbury's in January to complement Little Jude's low sugar Milk Lollies. The product comes in 180ml cartons and will be available in the drinks fridges of the UK supermarket.
Naturally sweetened with honey with no refined sugar, Little Jude's flavoured milk is made with 100% naturally-sourced ingredients and contain added vitamin D and calcium.
Based in Winchester, Hampshire, Jude's started out in 2002 making ice cream for adults.
Managing director Chow Mezger said securing a national supermarket listing for Little Jude's was "just fantastic".
"It didn't feel right for us to continue creating delicious ice cream for adults and not find something equally yummy for the kids," Mezger added. "Following the success of our milk lollies we realised the demand for natural, great tasting wholesome milk products for families – flavoured milk was an obvious next step for us and we are thrilled with the results."
Little Jude's Chocolate Milk and Little Jude's Banana Milk will be on the shelves of select Sainsbury's stores from 14 January at a recommended retail price of GBP1.25 (US$1.69).
Yasso reveals new ice cream 'pints' with frozen Greek yogurt
US-based Yasso reveals a new range of low-calorie ice cream 'pints' made with frozen Greek yogurt.
The pints contain no erythritol and use r-BST-free milk. Each tub offers five to six grams of protein, with calories ranging from 100 to 150 per serving.
Yasso was co-founded in 2011 by Amanda Klane and is run by Drew Harrington.
Its new range features eight flavour combinations with suggested retail prices of US$4.99 to US$5.49:
– Best of Borth Swirlds – combines chocolate and vanilla with frozen Greek yogurt
– Caramel Pretzel-Mania – offers chocolate-covered pretzels in sea salt and caramel
– Chocolate PB & YAY – comes with chocolate and peanut butter cups
– Coffee Brownie Break – contains cookie and brownie crumbles
– Loco Coco Caramel – entices with coconut swirled in caramel
– Mint-Champion Chip – offers crunchy, chocolate-flavoured chips
– Party Animal – combines birthday cake pieces with confetti sprinkles
– Rolling in the Dough – provides chunks of chocolate-chip cookie dough