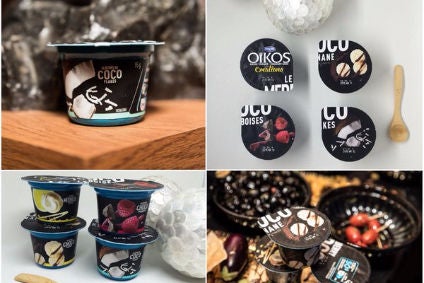 Danone has extended its Oikos Greek yoghurt brand in Canada with the launch of Oikos Creations.
The line is a "more indulgent option" for consumers seeking a "daily treat that won't make [consumers] feel guilty if they eat it everyday", a spokesperson for the dairy group told just-food.
"Consumers are snacking more and more. Snacking all day long is becoming a way of life. With our regular portfolio, we are answering their snacking needs when it comes to a product that is tasty, healthy and filling. And we wanted to also offer our consumers a more tempting and indulgent alternative – something that they would want to eat at night as a dessert or a treat. Now with Oikos Creations, our consumers can have it all: a tasty, healthy, filling snack with flavours that are answering their sweeter cravings," the spokesperson said.
Oikos Creations were launched at the end of last month and are available in grocery stores throughout Canada. Listings include IGA in Quebec, Métro in Quebec, Walmart, Provigo, Safeway, Overwaitea and Sobeys West. The RRP is C$3.99 (US$2.88) for a pack of four.
Danone invested C$40m in 2013 to expand capacity of its Greek yoghurt manufacturing plant in Boucherville in Quebec. At the time, the company revealed its plans to invest in the Greek yoghurt sector and its Oikos brand.